Raghavan Promoted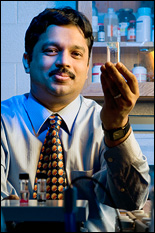 The Department of Chemical and Biomolecular Engineering (ChBE) and the A. James Clark School of Engineering extend their congratulations to Srinivasa Raghavan, who has been promoted to the rank of Professor effective July 1. Raghavan, the
Patrick and Marguerite Sung Professor in Chemical Engineering
, currently serves as one of the department's two Associate Chairs and as its Director of Graduate Studies.
"I feel fortunate to count Professor Raghavan as a colleague and friend," says ChBE professor and chair Sheryl Ehrman. "His scholarly contributions to the field of complex fluids are significant. He's an amazing mentor whose current and former students continue to have great impact as professors, leaders in industry employed at major corporations, and entrepreneurs who have started their own companies."
Raghavan is the director of the Complex Fluids and Nanomaterials Group, which studies the spontaneous self-assembly of molecules and nanoparticles and uses this behavior to create new "smart" materials. The lab is well-known for the variety and quality of its research, which has wide-ranging applications in wound care, drug delivery, micromanufacturing, remediation, and clinical procedures. Raghavan and his group have published extensively and have participated in a variety of business plan competitions aimed at commercializing new products they have developed in the lab.
Raghavan has also consistently been recognized for his efforts as an educator and advisor. In 2007, he was named "Best Teacher" by the University of Maryland's student chapter of the American Institute of Chemical Engineers, and in 2010 received the A. James Clark School of Engineering's E. Robert Kent Outstanding Teaching Award for Junior Faculty. In 2011, he has one of the first six professors elected to the Clark School's first class of ENGAGED Faculty, part of a National Science Foundation-sponsored program designed to increase the undergraduate student retention rate in engineering. He was also selected from a highly competitive pool of applicants to attend the National Academy of Engineering's Frontiers of Engineering Education (FOEE) symposium. He teaches both core chemical engineering courses and popular, specialized engineering electives at the undergraduate and graduate levels.
Raghavan earned his Ph.D. in chemical engineering from North Carolina State University in 1998 and joined the University of Maryland faculty in 2001.
Published May 31, 2012