OXE Honor Society Helps Riverdale Residents
Members of the Department of Chemical and Biomolecular Engineering's (ChBE) chapter of Omega Chi Epsilon, the chemical engineering honor society, aided residents of Riverdale, Md. in their bi-annual clean up of Briers Mill Run, a tributary of the Anacostia River.
ChBE undergraduates Evan Anderson, Kelsey Franley, Maria Kaplan, David Palmer, Jake Piekarz, Tyler Pitkanen, and Carli Sokoloski spent a Saturday morning with the Riverdale Heights/Riverdale Hill/Crestwood Community Association, removing trash and recyclable materials from the stream and its surrounding woods. In addition to ordinary garbage, the students hauled out multiple bicycles, auto parts, a ladder, mattress springs, and even an abandoned motorcycle.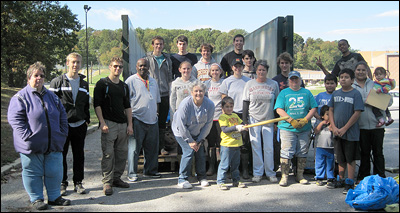 OXE members Tyler Pitkanen, David Palmer, Evan Anderson, Jake Piekarz, Kelsey Franey, Carli Sokoloski, and Maria Kaplan participated with other volunteers in the bi-annual Anacostia Watershed clean up.
"It was the UM students' enthusiasm for the event that energized us all," Marty Newman, the association's president, wrote in a letter to Professor Darryll Pines, dean of the A. James Clark School of Egineering. "They worked tirelessly as they reached, pulled, tugged and collected anything foreign to the natural setting of the woods and water. It was a rewarding experience and an environmental lesson. We could not have accomplished such an undertaking if not for the energy, strength, and commitment of your students. We thank your students for so wholeheartedly contributing to our success."
Published October 24, 2014