Nguyen Wins NOAA Hollings Scholarship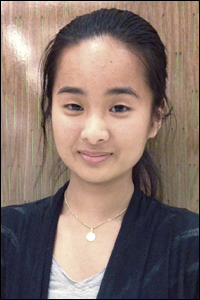 The National Oceanic and Atmospheric Administration (NOAA) has awarded University of Maryland (UMD) sophomore Catherine Nguyen a Hollings Scholarship. Nguyen, a member of the Department of Chemical and Biomolecular Engineering (ChBE), will receive two years of academic support totaling $16,000, a ten-week, full time paid internship after her junior year, and travel funds to attend NOAA Scholarship Program conferences. The NOAA internship will provide hands-on training in the administration's technology, research, policy, management, and education activities. Nguyen is one of eight UMD students and only 150 nationwide to join the Hollings Scholarship's 2015-2017 cohort.
Nguyen's search for undergraduate research opportunities in biomedical technology led her to a job in ChBE professor Srinivasa Raghavan's Complex Fluids and Nanomaterials Group the summer after her freshman year. She was paired with a mentor, graduate student Jasmin Athas, to work on two ongoing projects. In the first, she's assisting in the development of a "smart" gel which folds into three-dimensional shapes in the presence of an enzyme and has potential applications in biosensing and drug delivery. In the other, she's part of a team studying and developing alternatives to the dispersants used to break up oil slicks such as COREXIT 9500A, which was implemented after the Deepwater Horizon event in 2010.
It was the second project that sparked her interest in the impact of chemicals on human and environmental health.
"I had not realized that the dispersant used to clean up the oil spill could be more harmful than the oil spill alone," she says. "I also learned about studies showing that the dispersant is toxic to marine life. I applied for the NOAA Hollings Scholarship because I wanted to do more research on the toxicity of dispersants."
Nguyen, who says her favorite subjects are science and math, chose to major in chemical and biomolecular engineering not only for its diverse career options, but also to enrich her journey to become a "physician-scientist." After earning her bachelor's degree, she would like to join an M.D./Ph.D. program in which she can combine her love of science, technology, and medicine.
"I am a pre-med student but I chose the unconventional major because I wanted to understand more about technology being developed that could be used to improve human health," she explains.
Outside of class, Nguyen is a member of the ChBE's student chapter of AIChE, OXE (the chemical engineering honor society), the Primannum Honor Society, Engineers Without Borders' Compone, Peru project team, and UMD Club Tennis. She is a guided study session leader for Physics 161: Mechanics and Particle Dynamics, and was recently invited to join the Clark School's Research, Instruction, Service, and Entrepreneurship (RISE) program.
Published May 6, 2015