Nanomedicine Research Day 2007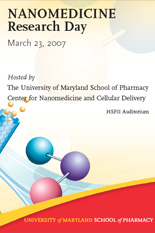 The purpose of this symposium is to provide an overview of the research activities of the center and the local/regional nanomedicine community in an attempt to foster interactions in this new area of research.
The convergence of recent advances in nanotechnology with modern biology and medicine has created the new research domain of nanobiotechnology. The use of nanobiotechnology in medicine is termed nanomedicine. Nanomedicine research includes the development of diagnostics for rapid monitoring, targeted cancer therapies, localized drug delivery, improved cell material interactions, scaffolds for tissue engineering, and gene delivery systems.
The Center for Nanomedicine and Cellular Delivery in the School of Pharmacy is an Organized Research Center based at the University of Maryland, Baltimore with membership spanning the University System of Maryland campuses. The mission of the center is to create a multidisciplinary research environment
that will provide expertise and foster collaborations for the design, development, and clinical translation of nanosystems for therapy and diagnosis.
View Event Brochure (pdf)
Published February 19, 2007