Fuentevilla Receives Best Paper Award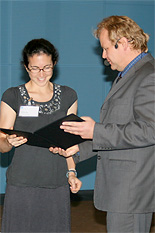 ChBE graduate student Daphne Fuentevilla, advised by Professor
Mikhail Anisimov,
won the International Association for the Properties of Water and Steam (
IAPWS
) Student Award for an outstanding presentation at the
15th International Conference on the Properties of Water and Steam
, held in Berlin in September 2008. Her presentation was titled "Thermodynamics of the critical behavior of supercooled water."
Anisimov was also in attendance as a session chair, as was ChBE Professor Emeritus Jan Sengers, who was invited to introduce a new standard for the viscosity of water and steam in the power industry. Fuentevilla is a member of their joint research group.
"The conference was a fantastic opportunity to meet some awe-inspiring scientists attending from more than 20 countries," says Fuentevilla. "I was particularly thrilled to have the opportunity to listen to a talk by Dr. Gene Stanley, a professor at Boston University and member of the US National Academy of Sciences, and discuss our overlapping research interests. Berlin is a beautiful city. The conference hotel was located directly across the Spree River canal from Museum Island, a UNESCO world heritage site."
Fuentevilla 's work on supercooled water has previously been published in Physical Review Letters, the highest-ranked journal in physics. (see Phys. Rev. Lett. 97, 195702 [2006]). She and Anisimov are currently editing a new paper on the topic for the journal.
Related Stories:
Anisimov, Sengers, Fuentevilla and St. Pierre at ICPWS »
ChBE Student Presents at IPST, Publishes in Top Journal »
Anisimov Group Makes Its Mark »
Works Referenced:
D. A. Fuentevilla and M. A. Anisimov. Scaled Equation of State for Supercooled Water near the Liquid-Liquid Critical Point. Physical Review Letters 97, 195702 (2006) »
Published September 25, 2008