Clark School Students Study Solar Energy in China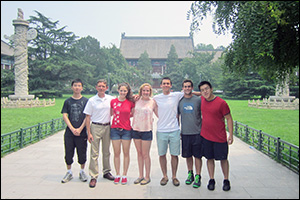 Department of Chemical and Biomolecular Engineering (ChBE) professor and associate chair Ray Adomaitis has returned from teaching a summer course on solar energy at Peking University (PKU). ENCH468L: Photovoltaics is part of a new exchange program between the University of Maryland and PKU.
Six Clark School students from multiple engineering departments, including ChBE junior Hannah Shockley, traveled to China with Adomaitis. Twenty more students from PKU, Hong Kong, Chile, Australia, Toronto, the University of Delaware, and the University of Pittsburgh joined them in class. The course covered the device physics and manufacturing processes of crystalline and thin-film photovoltaic cells, how solar solutions fit into an energy infrastructure, and the computational skills necessary to quantify solar cell efficiency.
"I found the course to be a rewarding and unique educational experience for both myself and the students," says Adomaitis. "The location at PKU allowed me to put fundamental solar energy concepts into a wider international context."
"[It] was truly an enlightening experience that opened my eyes to many ideologies that I will cherish for the rest of my life," says senior electrical and computer engineering major David Daniel, who took the course. "[It] enabled me to completely escape my comfort zone…The most important thing I gained from this trip was learning how to develop relationships with people whose backgrounds are completely different than mine…I was able to enjoy the things that I appreciate in the USA from a different perspective."
"[This] was one of the best experiences I have ever had in my life," says classmate Kevin Diep, a senior majoring in mechanical engineering. He enjoyed the group's three-day tour of Beijing as well as the class, describing Adomaitis' presentation of the material as "engaging and passionate." His favorite part of the trip, however, was the opportunity to meet and learn with other engineering students from around the world, making new friends in the process. "I flew halfway around the world expecting China, and got the whole world instead…I would highly recommend other students attend Peking University."
For mechanical engineering senior Xiang Zhang, taking the course had the added bonus of allowing him to visit his family. He also served as the group's interpreter. "[I'd] like to encourage all of my friends who have never been to China before to take a chance to study or travel [there]," he says, adding that he believes such trips will promote a better understanding of the rapidly changing country.
Published July 31, 2013