Chem-E Car Team Heads to Finals!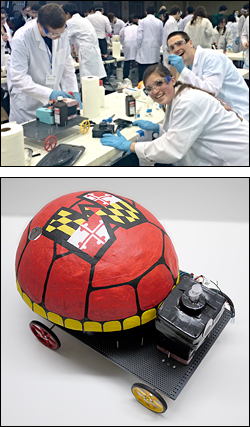 After introducing a new car and overcoming a course hazard, Team Thirsty Turtles took fifth place in the American Institute of Chemical Engineers' (AIChE) mid-Atlantic regional Chem-E Car Competition, held at the University of Virginia in March. For the fourth year in a row, the University of Maryland team's top-five finish earned it a spot at the national competition, to be held at AIChE's annual meeting this fall in Atlanta.
The contest challenges students to design and construct a small, chemically powered model vehicle. The cars must carry a specified cargo over a distance only revealed at the competition, and stop as close to a finish line as possible. Any kind of chemical reaction may be used to power the cars, which are not remote-controlled. Each team must carefully calculate the duration of the reaction required when they are told how far their vehicle must travel. This year, AIChE officials announced a target distance of 16 meters (52.5 feet) and a payload of 100 mL (3.38 ounces) of water.
This year marked the first appearance of the Thirsty Turtles' third and newest vehicle, Testudo Mobile, which traveled 18.59 meters in its best run.
"The competition was dramatic," says Team Leader and Department of Chemical and Biomolecular Engineering (ChBE) junior Brandon Hurn. In the first round, Testudo Mobile's wheels got caught in a fold of the rubber matting the organizers had laid down for the course, stopping it at a distance of only 4.5 meters." Testudo Mobile wasn't the only car foiled by the new and unexpected surface, however, and when the first round ended Team Thirsty Turtles stood in fourth place. While the mat was secured, the affected teams' objections and requests to rerun their cars were overruled by the judges, leaving them scrambling to make adjustments before the next run.
In the second and final round, two previously unsuccessful opponents were able to resolve their technical difficulties and move into fourth and fifth place, leaving the Thirsty Turtles in sixth.
"It was now or never," Hurn recalls, "and our car had to beat 3.5 meters [from the finish line] in order to take fifth place." Testudo Mobile ended its run 2.59 meters from the line, clinching the team's spot in the national competition. Hurn says their second run could have been even better if they had been able to make adjustments based on a successful first attempt, but is confident Testudo Mobile will get the job done at the finals.

Like its predecessor, the Pride of Maryland II, Testudo Mobile uses a Honda Prius battery that has been converted to 7.2 volts. The battery powers the motor, a photoresistor (light sensor), an LED, and circuitry built on an Arduino board (an open-source electronics prototyping platform). A vitamin C/iodine clock reaction solution is used to stop car when it has traveled the distance required. Initially colorless, it gradually darkens to dark blue or black as the reaction produces a starch-iodine complex. When the photoresistor can no longer detect the LED's light through the solution, the motor is switched off.
The most substantial differences between Testudo Mobile and the Pride of Maryland I and II were structural, says Hurn.
"We revamped the car frame, moving from an acrylic sheet with a foam overlay base to a perforated PVC sheet and screws protruding from the bottom up to hold components in place," he explains. "We also changed up the motor and chassis, improving the quality of those components dramatically."
The team also added their University of Maryland spirit to the vehicle, fitting it with red and gold wheels and a "Terp shell" frame cover.
"Our car was fully functional, but unfortunately, the shell added a little too much weight, so we ran without it," says team member and ChBE junior Katie Pohida. "We will definitely have it on when we go to nationals!"
In addition to Hurn and Pohida, the team includes junior Josh Condon, junior and electrical and computer engineering major Sarah De Leon, junior Ben Gelinas, junior Rick Graver, senior Dao Hoang, sophomore Amanda Merlock, junior David Shoemaker, and junior Isaac Zaydens. The team is advised by Associate Professor Chunsheng Wang (ChBE), and is generously supported by BASF, W.L. Gore, and its longtime sponsor, the W.R. Grace Foundation.
Published April 9, 2014