ChBE Professor Nominated for UMD Invention of the Year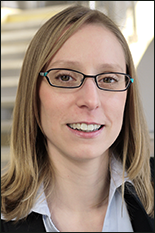 Amy Karlsson, an Assistant Professor in the Chemical and Biomolecular Engineering Department, has recently been nominated for the University of Maryland Invention of the Year Award in the category of life sciences. Karlsson's invention is entitled, "Development of a Novel Therapeutic Histatin-5 Based Antifungal Peptides and a Bioadhesive Hydrogel Formulation for Oral Topical Application" (docket LS-2016-027).
The awardees will be honored in a ceremony, "Innovate Maryland: A Celebration of Innovation and Partnerships," on April 12, 2017, from 4:30 - 6:30 p.m. This year's ceremony marks the 30th Anniversary of the Award, and will be hosted by the Division of Research, Office of Technology Commercialization, Corporate Connect Council, MTech and the Academy of Innovation & Entrepreneurship. The Award comes with a plaque and cash prize, in addition to prestige.
Congratulations, Amy! We're rooting for you!!
Related media:
"Fighting Fungus: Engineering antibodies for validating antifungal drug targets" - UMD ChBE
"Invention of the Year Nominees Create Innovative Solutions in Health, Cybersecurity, Data and Energy" - UMD Division of Research
Published February 21, 2017