Battery Team Heading for $100K ACC Clean Energy Challenge Finals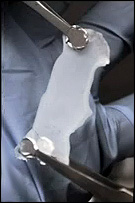 SafeLiCell, a new venture led by Clark School Department of Chemical and Biomolecular Engineering (ChBE) graduate student Aaron Fisher; his advisor, Fischell Department of Bioengineering (BioE) professor Peter Kofinas; and BioE sophomore Mian Khalid, will represent the University of Maryland at the inaugural
$100K ACC Clean Energy Challenge
business plan competition to be held on April 25, 2012.
The $100K ACC Clean Energy Challenge invites students from the southeastern United States to submit their ideas for startup companies built around clean energy solutions, including fuels, improving the energy efficiency of existing technologies, and the development of renewable energy.
SafeLiCell has developed a novel, patent-pending battery electrolyte material, called Lithium Flex, that provides a lighter, safer, and flexible option for lithium-ion batteries.
"As portable battery-operated devices decrease in size, there is a greater need for batteries to have more power and longer lifetimes, along with versatility of size, shape and weight," Fisher explains. But the power advantages lithium-ion batteries offer sometimes comes at a price, he adds, noting that the leakage of flammable and corrosive battery components has resulted in "catastrophic failures" and costly recalls by major manufacturers with millions of customers, including BMW, Chevy, Dell, HP, and Nokia.
Lithium Flex, SafeLiCell's solid-state polymer electrolyte, is a strong, flexible film that can be wrapped or bent into different shapes without breaking, and contains no combustible materials. At present, the young company hopes to enter the market by targeting the battery needs of standalone sensors and miniature devices.
Watch SafeLiCell's investor pitch!
SafeLiCell is one of the "Eight Elite Plus Two" semifinalists who will pitch their ideas to judges in private sessions on April 24, 2012, vying for a spot at the Final Four presentations, to be held at the Clarice Smith Performing Arts Center on April 25. The Elite Eight each represent a school in the Atlantic Coast Conference, while the final two competitors were selected from a pool of teams from non-ACC schools. The winner of the $100K ACC Clean Energy Challenge will receive $100,000 and advance to the U.S. Department of Energy National Clean Energy Business Plan Finals to be held in Washington, D.C., this summer.
For More Information:
Learn more about how you can attend this exciting event and show your support for BioE, ChBE, the Clark School and the University of Maryland at www.accnrg.org.
Read the $100K ACC Clean Energy Challenge's press release about the "Eight Elite Plus Two" »
Published April 20, 2012