Ye Tao Wins Best Student Presentation Award for Fall CEEE Consortium Meeting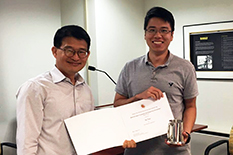 Fifteen graduate students presented their research to government and industry sponsors at the fall consortium meetings, held in September at the University of Maryland. Students were judged by sponsors on the clarity, presentation style, and quality of their presentations. They chose Mr. Tao's presentation, Electrochemical Compression, out of a very strong showing from his peers. He was presented with an engraved made-in-Maryland tankard to commemorate his accomplishment at the post-consortium pizza lunch and feedback session.
Mr. Tao is Ph.D. student in Chemical Engineering, and is co-advised by Dr. Chunsheng Wang, Assistant Professor of Chemical and Biomolecular Engineering, and Dr. Reinhard Radermacher, Professor of Mechanical Engineering.
Published September 28, 2016