WIE to Establish Living-Learning Program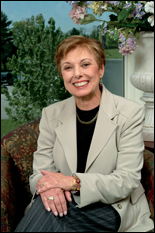 A $100K gift from former Clark School associate dean Marilyn Berman Pollans will help the Women in Engineering program to establish a living-learning program to attract and retain more female engineering students.
"The new living and learning program launches a unique community designed to attract and retain more women in engineering," said Paige Smith, director of the Women in Engineering program at the Clark School. "Women currently represent only 17 percent of the undergraduate engineering student population at the University of Maryland, which is the same as the national average. Our goal is to beat the national average and to make Maryland the first choice for women who want to study engineering."
Berman Pollans said she was getting ready to make a general gift to the WIE program when she heard about the new living-learning initiative. "I thought a gift to the program would help push it along. This gave me a reason to give to a specific purpose," she said.
The two-year program will be open to any freshman engineering student (male or female) with an interest in promoting gender diversity in the field of engineering.
The new initiative will include a one-credit seminar course, course clustering, residential housing on a common floor in a campus dorm and resources provided in the residence hall. The exact dorm where the program will be housed has not been selected yet.
To learn more about the University's Great Expectations campaign and how you can make a difference in the Clark School's progress, please contact Steve Beeland.
Published February 6, 2007