Villanueva Presents at ACC Conference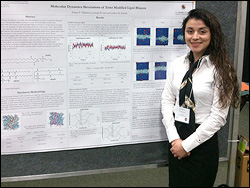 Department of Chemical and Biomolecular Engineering sophomore Diana Villanueva, advised by Assistant Professor Jeffery Klauda, was one of only three University of Maryland students selected to attend the
6th Annual ACC Meeting of the Minds Conference
held at the University of Miami, Fl., in April 2011.
The invitation-only event showcases the best undergraduate research projects in the arts, humanities, and sciences from schools belonging to the Atlantic Coast Conference (ACC). Villanueva received an all expenses paid trip, funded by the Maryland Center for Undergraduate Research and the ACC's International Academic Collaborative, to present her work on cell membranes.
The outer surface of a cell, its membrane, has a bilayer structure, meaning it has an inner and outer layer that protects the cell and holds it together. Villanueva's poster, "Molecular Dynamics Simulations of Ester Modified Lipid Bilayers," describes her study of a specific mixture of lipids (fats) in a cell membrane that results in the formation pores that allow water and ions (charged atoms) into the center of the bilayer. Since these pores reduce the protective design of the bilayer by allowing uncontrolled transport into and out of the cell, the membrane may rupture, causing cell death.
"This is a reaction that occurs in nature," she explains, "but we want to understand the problem—what causes the lipids to oxidize and degrade—and see what we can do to prevent it." What she learns could tell us more about factors that affect the stability of cells as we age.
Villanueva, Klauda and their colleagues use 3D modeling and molecular dynamics simulation software to create virtual cell membranes. The models contain lipids whose molecular structures have been oxidized to form esters in their carbon chains. The team was able to simulate what would happen to the cell membrane, and why, when lipids were altered in different ways.
"Diana has been running several extremely long all-atom molecular dynamics simulations on these systems that agree with some recent experiments," says Klauda. "This is the first simulation study on these oxidized lipids and the results are extremely encouraging."
Villanueva, who is also a premed student, became involved in undergraduate research to prepare to apply to medical school. She has been working in Klauda's lab for almost a year. "I really like my research," she says, adding that she's looking forward to writing and submitting a paper after their analysis is complete, as well as attending more scientific conferences.
The Meeting of the Minds conference was Villaneuva's second. She previously presented her work at the Biophysical Society's annual meeting in Baltimore, Md. in March. Attending the conferences and explaining her work to others, she says, has helped build her confidence in her presentation skills, and she has enjoyed meeting faculty and students from around the world who are interested in her research.
Published May 5, 2011