Undergraduate Research: Building Flexible Electronics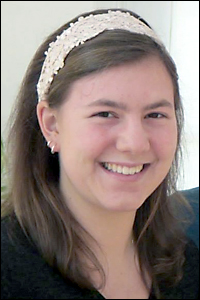 Flexible electronics–circuitry printed on or etched into sheets of plastic, foil, paper and fabric–are used in all kinds of devices where space is limited or oddly-shaped, weight must be reduced, or components must be able to move. University of Maryland undergraduate Maria Kaplan spent the summer between her sophomore and junior years learning how to make them better.
Kaplan, who majors in chemical and biomolecular engineering, was awarded a Summer Undergraduate Research Fellowship (SURF) from the National Institute of Standards and Technology (NIST). She worked under the guidance of Dr. Lee Richter at NIST's Material Measurement Laboratory in Gaithersburg, Md., where she explored materials and techniques used to fabricate organic semiconductor films.
"My research [was] part of a larger effort to improve devices in the growing field of printed and flexible electronics, [which] focuses on organic films rather than inorganic materials such as silicon," she explains. "Organic semiconductor films have proven to have the ability to replace amorphous silicon in liquid crystal displays (LCDs) and organic light emitting diodes (OLEDs). I researched different polymer solutions and different thin film application methods. I used optical and electrical techniques to determine what processing conditions produced the highest performing devices, specifically transistors."
At the end of the summer, Kaplan was invited to deliver a plenary talk about her work at the NIST SURF Colloquium, the institute's annual event highlighting undergraduate research.
Kaplan learned about summer fellowships at NIST through the Clark School's Engineering Co-op and Career Services office. The SURF was her first research experience.
"I wanted to participate in research to see what it entailed," she says. "Looking ahead, I will have something to highlight on future job applications." Thanks to her SURF, attending graduate school and pursuing a career in research has become one of her "top two" possible career paths.
Kaplan says the best thing about her NIST experience at was realizing just how much we still don't know or understand about our world.
"There is never a shortage of topics that need to be explored," she says. "I learned to appreciate the research being done today that will impact our lives in the future."
To learn more about Maria Kaplan and her experiences as a Department of Chemical and Biomolecular Engineering student, visit her profile.
Published October 2, 2014