State Approves $3.65 Million for NanoCenter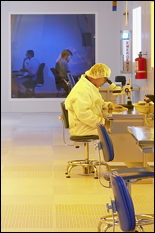 Maryland Governor Robert L. Ehrlich announced this week that the state General Assembly has approved $3.65 million in funding for the Maryland NanoCenter, to be drawn from the state's "Sunny Day Fund" and the governor's nanotechnology initiative.
The money will be used to purchase major capital equipment that enables the fabrication of nanoscale patterns using electron beams as well as novel printing approaches, the controlled deposition of material at atomic and nanoscale dimensions, the characterization of nanostructure and properties, and associated support equipment for the NanoCenter's FabLab in the Jeong H. Kim Engineering Building.
"Maryland is ideally poised to achieve a sustained leadership position in nanotechnology, with major benefit to economic, employment and workforce development in this critical industry, as well as to university excellence," said Governor Ehrlich. "This funding will allow the University of Maryland to continue its outstanding work partnering with local companies to provide both technical expertise and easy access to critical equipment."
The Maryland NanoCenter (formerly Maryland Center for Integrated Nano Science and Engineering [M-CINSE]) is a partnership of the Clark School and the Colleges of Computer, Math and Physical Sciences and Chemical and Life Sciences. It promotes major nano research and education initiatives, provides one-stop shopping for those seeking nano expertise and/or partnerships at the University of Maryland, and supplies infrastructure to facilitate nano activities at the University of Maryland through equipment, staff support and informational and administrative functions. Nano research at the University of Maryland includes key areas such as scanning nanoprobes, complex oxide and multifunctional materials, focused ion beam research, ultrasmall devices, biomolecular engineering, biomaterials, polymer composites, and ultrafast dynamics.
In 2005, Maryland was ranked one of the top ten states in nanotechnology by Small Times magazine, which recognized Maryland's leadership position in nanotechnology research and product development, as well as the state's rich technology infrastructure and high concentration of professional and technical workers.
The Clark School recently created an interdisciplinary minor in nanoscience and technology that students can currently opt to participate in. The minor aims to expose students to the advances in devices and materials structured at the nanoscale, to prepare them for a career in this rapidly developing field.
Published June 9, 2006