Sr. VP of Bechtel Power to Talk About Engineers in Renewable Energy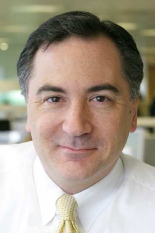 Ian Copeland, Sr. Vice President, Bechtel Power and President of Bechtel Renewable Power will give a presentation to Clark School students and faculty on "The Role of Engineering in the Development of Renewable Energy Power Generation" on Wednesday, December 8, 2010 @ 6:00pm in the Kim Engineering Building Lecture Hall. There will be a reception beginning at 5:30pm to meet Ian as well as Justin Zachary, Senior Research Fellow at Bechtel Power and Adjunct Professor in the Sustainable Energy Engineering Master's program offered by the Clark School.
This seminar will be webcast to include the online students in the Sustainable Energy Engineering program. (View Here)
Ian Copeland is a Senior Vice President of Bechtel and the President of Renewable Power for Bechtel Power Corporation. In this role, he leads Bechtel's business in new energy technologies – including carbon capture and renewable energy sources such as wind and solar – globally.
Previously, as President of Fossil Power, he managed Bechtel's involvement in the engineering and construction of fossil and renewable energy power plants worldwide. Prior to that role, he was Projects Director and served on the board of directors of Tube Lines Limited, a company that was jointly owned by Bechtel and Ferrovial that had a 30-year concession to manage and upgrade London Underground's Jubilee, Northern, and Piccadilly lines. During his Bechtel tenure, Mr. Copeland has also served as: Assistant Project Manager for Bechtel Power's Springerville Unit 3 400MW coal-fired power plant project in Arizona; Executive Assistant to the President & Chief Operating Officer of Bechtel Group, Inc.; Managing Director for Europe, Africa, and the Middle East for Bechtel Enterprises (the development and financing arm of Bechtel); and, as director of numerous project and joint venture companies. Mr. Copeland joined Bechtel in Hong Kong in 1997 as a development manager for Bechtel Enterprises.
Prior to joining Bechtel, Mr. Copeland was Managing Director of Wärtsilä Power Development (Asia) Limited which he established in Hong Kong as the development and finance arm of a major power equipment manufacturer. He was also Vice President, Project Finance for Hannon Armstrong & Company, a privately-held merchant and investment banking firm based in Alexandria, Virginia. In these roles he was responsible for the development, finance, construction and operations of numerous innovative infrastructure projects including: greenfield independent power projects in Pakistan, the Philippines, Indonesia and China; the first privatized energy facility completed with the U.S. Department of Energy; and, a 1,000 room residential training facility for the U.S. Postal Service. Mr. Copeland started his professional career with the utility consulting practice of Booz Allen Hamilton after graduating from Rutgers University with degrees in mechanical engineering and physics.
The seminar is sponsored by the University of Maryland Energy Research Center, Association of Energy Engineers - Student Chapter, and the Office of Advanced Engineering Education.
Published December 1, 2010