Solar Team Distills Most and Purest Water at International Competition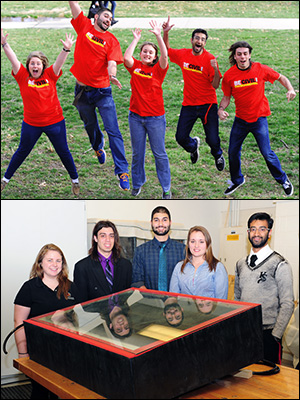 "Millions of people die every year simply due to the fact that they don't have access to clean water, something we take for granted here in the United States," says Clark School senior Sahson Raissi (Department of Civil and Environmental Engineering [CEE]).
Solar distillation units, which collect clean water evaporated from a dirty or salty source, are easy to build and offer a valuable solution to the problem, particularly for people in developing nations. At its most basic, a solar still is simply a basin used to hold the undrinkable water fitted with a cover on which to gather condensation.
The system, however, has its drawbacks. "The challenge with this technology is that it is relatively a slow process," Raissi explains. "You have to wait a while for the sun to use its energy to evaporate water that basically starts out around room temperature."
Raissi, along with four classmates from CEE and the Department of Chemical and Biomolecular Engineering (ChBE), took on the annual Environmental Design Contest's challenge to design and build a more efficient solar still. Their prototype, which produced the most and purest water in the competition, earned them the Judges' Choice Award and United States Bureau of Reclamation's Renewable Energy Application Demonstration Award. Representatives from the Bureau were so impressed by the design of the still they asked to put in on display at their facility, and invited team members to apply for internships.
Sponsored by New Mexico State University's WERC Consortium for environmental education and technology development and the Institute of Electrical and Electronics Engineers (IEEE), the annual Environmental Design Contest invites students from around the world to undertake one of several tasks focused on addressing a real-world problem. Each team prepares four presentations: one written, one oral, a poster, and a bench-scale model. A panel of environmental science and engineering professionals serve as judges.
Team captain and CEE junior Krishna Trehan was searching for a way to apply what he'd learned in class to an environmental design project. After discovering the competition, he assembled a team including Raissi, junior Merily Horwat (CEE), junior April Tressler (CEE), and junior Ryan Smith (ChBE). The undergraduates then recruited ChBE Professor and Chair Sheryl Ehrman and CEE Director of Undergraduate Student Services Alan P. Santos as their advisors, entered the contest, and got down to business.
Smith says the team's strategy focused on optimizing three parameters which they believed would maximize the still's efficiency. "We wanted to follow three simple ideas," he explains. "Minimize the amount of air within our unit, maximize the contact between the dirty water and our aluminum basin, and maximize the surface area to allow for more sun exposure."
The team believes its makeup was as important as its technical strategy: Horwat, Raissi and Trehan specialize in environmental engineering; Smith is a chemical engineer; and Tressler is a structural engineer.
"Every step of the design process was understood and developed by at least one person," says Tressler. "The civil engineers with the environmental focus knew the standards that had to be achieved by the water produced by the still. The chemical engineer knew the concepts and theorems that applied to water evaporation and the transfer of heat….[and I was] able to develop a physical design that satisfied all the previous criteria."
The interdisciplinary mix also served them well in the competition, she adds. "At least one person from the team was able to answer any questions that were asked by the judges…Our team had knowledge of every aspect of solar distillation and was very well prepared."
The team is already planning for next year's entry. "We were all so excited after we won two awards that we immediately started improving our design on the car ride back to the hotel from the contest venue!" says Trehan.
Team members describe the contest as "an amazing experience," and say they particularly enjoyed meeting their competitors, some of whom congratulated them after the awards ceremony for turning in such a strong performance–the first from the University of Maryland at the competition since 1995.
"But the absolutely greatest feeling was that we were able to represent the University of Maryland the best way we could," Trehan adds. "We all love this school and wanted to make it proud."
The Solar Distillation team would like to thank its sponsors, including the Bechtel Corporation, CEE, ChBE, Professor Ashwani Gupta and the University of Maryland Combustion Lab, and Clark School dean Darryll Pines; as well as the team members' families, friends, and advisors.
Published April 24, 2013