National Instruments LabVIEW Tour Coming to University of Maryland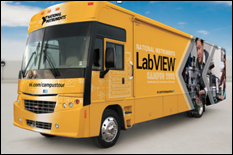 On January 24th from 9 a.m. to 3 p.m., the LabVIEW Campus Tour bus will be parked in the Paint Branch Parking Lot behind the Jeong H. Kim Engineering building. Demonstrations will be held throughout the day for educators, researchers and students on topics such as measurements, circuits and electronics, RF and microwave design, structural testing, design projects, and robots. Engineers from National Instruments will be available to answer questions and to help familiarize users with the LabVIEW programming environment.
The University of Maryland has recently purchased an NI Academic Site License allowing all UMD faculty, and researchers access to the LabVIEW software, including training and technical support.
For more information about LabVIEW Campus Tours, please visit the NI LabVIEW Campus Tour page. Registration for the event is encouraged.
Published January 16, 2013