Maryland Day 2006—Explore Our World!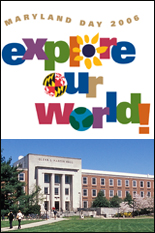 Join the Clark School for a full day of activities during Maryland Day 2006, April 29, from 10 a.m. to 4 p.m.
For the full slate of activities happening campus-wide, visit the Maryland Day homepage.
Science and Tech Way will host a slew of educational and fun events throughout the day.
In celebration of the university's 150th anniversary, there will be many historical exhibits to explore—not to mention a 5000-pound strawberry shortcake to indulge in on Hornbake Plaza.
Published April 6, 2006