Marine Dredging Pioneer to be Honored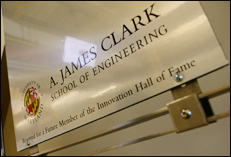 Raymond J. Krizek, M.S. '61, civil engineering, will be inducted into the Clark School's Innovation Hall of Fame for his work with industrial slurries and grout.
The ceremony will take place in the Hall of Fame, which is located in the north corridor of the Kim Engineering Building, at 4:30 p.m. on October 4. Provost Nariman Farvardin will confer the Innovation Hall of Fame medallion.
Krizek has made essential contributions to geotechnical engineering and the field of slurry mechanics, creating the standards that guide such environmentally challenging projects as marine dredging, port management, and island restoration in the Chesapeake Bay and around the world.
All Clark School faculty, staff and students are encouraged to attend the ceremony.
Published September 5, 2007