Liu Wins ACS Petroleum Fund Grant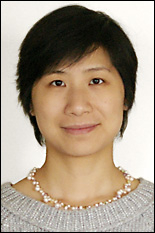 Department of Chemical and Biomolecular Engineering assistant professor Dongxia Liu has been awarded a 2-year grant from the American Chemical Society's Petroleum Research Fund to develop a new technique for transforming heavy carbon-based energy resources into clean fuels.
"Emerging sources of carbon-based fuels, such as biomass, coal, and tar-sands, are substantially heavier than conventional crude oil, and contain higher proportions of heteroatoms such as sulfur, nitrogen, and oxygen," Liu explains. "We propose to develop novel structured catalysts to enable effective and selective catalytic reactions for processing of these heavier fuel feedstocks into clean fuels."
The project based on Liu's proposal, "Metal Sequestered in Hierarchical Zeolites: Protected Active Sites and Enhanced Mass Transport for Heteroatom-Tolerant Catalysts," will combine metal and zeolite bifunctional catalysts into novel porous nanoarchitectures capable of removing heteroatoms from heteroatom-containing compounds in the feedstocks while minimizing the formation of coke on the catalyst.
According to Liu, the structural and chemical characterization and kinetic analysis of the new catalyst formulations and the catalyzed reactions will also provide fundamental information about the relationship between catalyst structure and functionality, which should guide the development and application of other efficient fuel-processing catalysts.
Published July 20, 2012