Karlsson Receives ENGAGED Faculty Award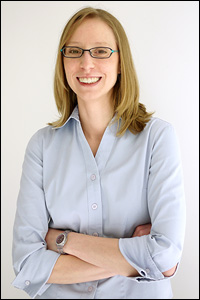 The Department of Chemical and Biomolecular Engineering (ChBE) extends its congratulations to Assistant Professor Amy Karlsson, who received the Clark School's ENGAGED Faculty Award for excellence in teaching. She was presented with the award at a breakfast event held by Women in Engineering in May. Karlsson teaches courses including CHBE 426: Separation Processes and CHBE 437: Chemical & Biomolecular Engineering Laboratory (also known as Unit Ops).
The ENGAGED Faculty Award is a component of a National Science Foundation (NSF)-funded program called ENGAGE: Engaging Students in Engineering. The program's goal is to increase student retention rate by implementing three strategies designed to improve their classroom and educational experiences: integrating everyday examples of engineering concepts into coursework, improving spatial visualization skills, and improving and increasing faculty-student interaction.
Honorees are selected based on qualities that support these goals, such as being approachable and accessible, having high expectations of students, providing advice and support on academic and extracurricular activities, and taking a genuine interest in and concern for students, especially outside of class.
Published June 1, 2015