Karlsson Joins ChBE Faculty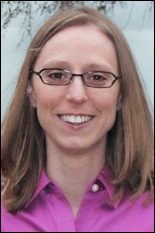 The A. James Clark School of Engineering and the Department of Chemical and Biomolecular Engineering (ChBE) are pleased to welcome Assistant Professor Amy Karlsson to the faculty.
Karlsson, who received her Ph.D. in chemical engineering from the University of Wisconsin–Madison in 2009, specializes in the engineering of proteins and peptides used to study and improve the diagnosis and treatment of human diseases caused by fungal pathogens.
Fungal infections are especially dangerous to patients whose immune systems have been compromised by a disease such as AIDS, or by chemotherapy treatments. The number of available antifungal drugs is limited, and like bacteria, fungi can become drug-resistant.
"The proteins and peptides we engineer will be designed to specifically recognize fungal cells or fungal cell proteins," Karlsson explains. "This specific interaction could allow us to use these proteins and peptides to target molecules such as antifungal agents to fungal cells, to detect fungal cells, or to study the role of proteins in fungal cell viability."
She will initially work to combat a fungal pathogen called Candida albicans, the culprit behind common human ailments such as vaginal yeast infections and diaper rash. In immunocompromised patients, however, it is difficult to treat, and can be fatal.
Karlsson utilizes two approaches in peptide and protein engineering. The first, rational design, draws on existing knowledge of a peptide or protein's structure and function to guide the creation of new ones, using selected amino acid sequences that improve on the original's characteristics. The second technique, directed evolution, enlists bacteria as living factories that produce millions of new peptides and proteins by randomly varying the amino acids in their sequence. Their output is then screened to find those with the desired properties.
"I decided to join ChBE at Maryland because the department and university environment will help me develop a strong research program," says Karlsson, noting the availability of high-quality students to join her group, common and complimentary interests with other faculty members, and the ability to collaborate with colleagues throughout the university. ChBE's strong commitments to excellence in teaching and mentoring junior faculty were also important factors in her decision. The move to College Park, she adds, comes with the added bonus of bringing her closer to family: her husband, Fischell Department of Bioengineering professor Christopher Jewell, is originally from western Maryland.
This fall, Karlsson will be co-teaching ChBE's Unit Operations Laboratory course, CHBE 437, with ChBE associate professor Chunsheng Wang.
Prior to joining the University of Maryland, Karlsson was a postdoctoral research fellow at Cornell University, where she was a member of associate professor and ChBE alumnus Matthew DeLisa's (Ph.D. '00) research group. Her work was supported by a Ruth L. Kirschstein National Research Service Award from the National Cancer Institute.
In her free time, she enjoys playing ice hockey, volleyball, and basketball, as well as hiking, camping, and making pottery. She has also been active in outreach programs designed to inspire children to study science and engineering.
Professor Karlsson is currently seeking graduate students, postdoctoral researchers, and undergraduate students to join her research group. Interested applicants may contact her at (301) 405-2610 or ajkarl@umd.edu.
For More Information:
Visit Professor Karlsson's homepage »
Published August 27, 2012