Joseph's Whiting-Turner Lecture Available Online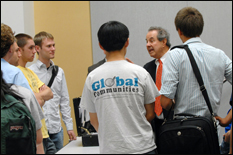 Semiconductor entrepreneur Al Joseph delivered the last Whiting-Turner Business and Entrepreneurial lecture of the spring semester on Thursday, April 20.
Joseph's lecture was titled "Technology Nodes: New Engines for University Business Development." He gave a detailed history of his entrepreneurial experiences, including founding Vitesse Semiconductor Corporation.
He also outlined his ideas for charging universities with fostering the entrepreneurial spirit and bringing new technology to fruition with the backing of the federal government.
Published April 24, 2006