InnoWorks Makes Science Fun for Kids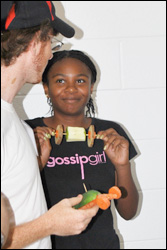 During one of the last afternoons of the summer, a large group of middle school and college students crowded around a course prepared for the model cars they had designed. The cars were eco-friendly and 100% biodegradable—in fact, they were edible, propelled by gravity down a ramp on wheels made of large slices of potato, carrot or cucumber.
The veggie vehicles were only one of many hands-on projects the Prince George's County middle school students experienced during InnoWorks 2010: The Eureka! Effect, a weeklong summer workshop hosted by the University of Maryland.
Organized by the nonprofit United InnoWorks Academy, the free program is designed and run "by students, for students." Its goal is to give underprivileged kids the chance to get excited about science using hands-on lessons, while building teamwork and problem-solving skills. Innoworks is sponsored by corporations including GlaxoSmithKline and Cisco Systems, and by host colleges in the United States and abroad.
InnoWorks projects cover a spectrum of scientific concepts and may include experiments with light, sound, polymers, biology, physics, and energy. The cars made out of vegetables helped students learn how mass, friction, and axle and wheel size affect the way they rolled.
Department of Chemical and Biomolecular Engineering (ChBE) associate professor Nam Sun Wang, a frequent participant in K-12 outreach activities, has served as the faculty advisor for the University of Maryland chapter of InnoWorks for the past three years.
"I am especially proud of this organization precisely because it is student-led," he says. "Through all the activities, especially during the long preparation stage, mentors learn how to organize and plan events, take charge, take responsibility, and learn a multitude of little things [about] dealing with kids."
Student mentors come from science and engineering majors throughout campus, including ChBE. Rising senior Timothy Lee has spent three summers volunteering for the InnoWorks program.
"The projects are simple, fun and effective," he says. "A lot of the same kids come back [each summer]—it's a good way to build a student-mentor relationship, especially at that particular age when their minds are open to motivation and possibilities. I get questions all the time about what I want to do with my own future. I explain my major to them, and they're all really interested. I show them my enthusiasm, and hope I'll have a positive influence on them."
Other ChBE students have also donated their time and love of science to InnoWorks. Keran Lu (B.S. '09) participated in the program as a student mentor from 2006-2009, and served as the student director of the 2009 session.
InnoWorks 2010 was directed by undergraduate Maria Chang (Department of Civil and Environmental Engineering) and co-directed by Jana Lovell (Department of Biology).
Parents, teachers, students, and prospective mentors interested in participating in the program may contact Professor Wang at nsw@umd.edu for more information.
Learn More:
Visit the InnoWorks Academy web site »
Published August 30, 2010