Grip Boost Hopes Its Idea Sticks at Cupid's Cup Business Competition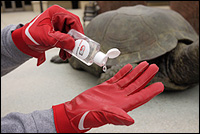 Grip Boost LLC, a company whose cofounders include University of Maryland (UMD) students and alumni from the Department of Chemical and Biomolecular Engineering (ChBE), will be one of twelve startups to pitch their business plans to Under Armour Founder and CEO Kevin Plank in the semifinal round of the Tenth Annual Cupid's Cup Business Competition. The event, presented by Plank and UMD's Robert H. Smith School of Business, will be held on March 10 at Under Armour's headquarters in Baltimore, Md.
The Grip Boost team, which was selected from an international pool of nearly 200 competitors, hopes to convince a panel of judges including Plank, investors, entrepreneurship experts, and Under Armour executives that their invention, the first NCAA-compliant gel that restores the tacky coating on worn football gloves, is the next hot product.
Football gloves, which are coated with a sticky polymer that helps players catch and hold onto the ball, retail from $20 to over $80 a pair. Unfortunately, they wear out in anywhere from a few plays to a few weeks. While this isn't a problem for a well-funded Division I or NFL team, it's a major expense for high school and youth league players, who are responsible for their own non-essential equipment.
Instead of buying new gloves or going without, players can apply Grip Boost's clear, quick-drying gel to their gloves between plays to restore them to like-new condition. A two-ounce bottle of the gel, which contains about 60 applications, is currently sold in small batches, but the company believes the product is poised to serve a large national market.
Grip Boost was founded by former UMD Terrapins and Baltimore Ravens tight end Matt Furstenburg (B.S. '12), Dingman Center entrepreneur-in-residence Harry Geller, ChBE alumni Chanda Arya (Ph.D. '14) and Kevin Diehn (M.S. '14), and ChBE undergraduate Zachary Rom (B.S. '15). Professor Srinivasa Raghavan (ChBE) serves as the company's chief scientific advisor.
Grip Boost has been featured in a variety of publications and web sites, including the Washington Post in 2012 and 2014, Engineering.com, the Baltimore Business Journal, and the Hunterdon County Democrat, and the Diamondback.
If Grip Boost advances to the final round of the competition, to be held April 22 on the University of Maryland's College Park campus, it will be one of five companies vying for $115,000 in total cash prizes and coaching from a team of successful entrepreneurs.
To Learn More:
Visit Grip Boost's web site
Visit the Cupid's Cup web site
Read UMD's press release about the Cupid's Cup semifinalists
Visit Professor Raghavan's Complex Fluids and Nanomaterials Group web site
Published February 27, 2015