Gordon Selected for Future Faculty Program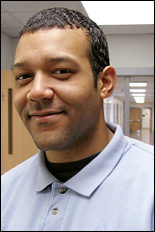 Please join us in extending our congratulations to graduate student Brad Gordon (advised by Associate Professor
Sheryl Ehrman
), who was one of only 20 students from throughout the Clark School chosen to participate in this year's Future Faculty Program. Gordon will be part of the program's second cohort of students.
The Future Faculty Program (FFP), launched in 2007, was created to prepare students for academic careers in top-50 engineering schools by helping them hone their skills in areas such as technical and grant writing, curriculum development, teaching, research, oral presentations, and interviewing. The program includes seminars, a teaching practicum, and a research mentoring practicum, and takes 3-5 semesters to complete. Participants are known as Future Faculty Fellows, and receive a supplementary stipend of up to $10,000 over the course of the program. One half of the funds are reserved for travel to attend professional conferences.
"I applied to the FFP because I thought it was a great opportunity to learn more about a possible career as a professor," says Gordon. "This program is special because it allows graduate students to really know what they might be getting into—and more importantly, should they choose a position in academia, they'll have a greater sense of what it means to be a professor."
For More Information
Related Stories:
Castellanos, Gonzales Selected for Future Faculty Program
Gordon Attends International Winter School
Published February 1, 2008