Ghosh Wins Wells Fellowship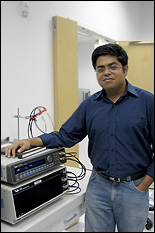 Department of Chemical and Biomolecular Engineering (ChBE) graduate student Ayan Ghosh has been awarded the Harry K. Wells Endowed Fellowship. The award was established to provide annual fellowships for Clark School graduate students working on energy engineering and alternative energy sources in conjunction with the University of Maryland Energy Research Center (UMERC). The Wells gift to start the fellowship also benefited the
Great Expectations
campaign.
Ghosh, who is advised by Fischell Department of Bioengineering Professor Peter Kofinas, works with polymers that could be used as electrolytes in new, flexible batteries that will be both lighter and safer than the ones we use today.
"If you cut open a battery," he explains, "or if it leaks, it spontaneously combusts or the electrolyte forms corrosive byproducts when it comes into contact with air or moisture. The idea is to replace this electrolyte with a polymer, something that when exposed to air and moisture simply crumbles. The flexibility and solid nature of the polymer has great design potential for electronics: "Unlike a liquid electrolyte it doesn't need to be encased in a bulky container," says Ghosh. "Suddenly your device is no longer constrained by the size and shape of your battery. Your device coating itself could be the battery!"
Professor Kofinas, who along with ChBE Professor and Chair F. Joseph Schork nominated Ghosh for the award, believes it is well deserved. "Ayan is one of my best students," he says. "His performance is outstanding. He's made a flexible polymer electrolyte with superior properties, and is about to submit a paper to the top polymer journal, Macromolecules, with his research results."
Learn More:
To learn more about the Great Expectations campaign and how you can make a difference in the Clark School's progress, please contact Steve Beeland.
Visit Professor Kofinas' Functional Macromolecular Lab web site »
Ayan Ghosh and Professor Kofinas were also featured in "Getting Energized" in the Fall 2006 issue of E@M magazine. Download the issue at the E@M home page »
Published August 14, 2007