Four Terps Named 2020 Goldwater Scholars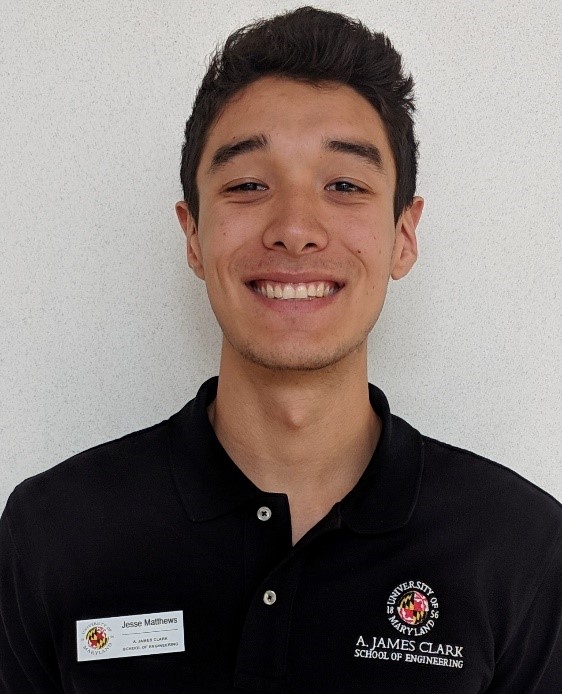 For the third year in a row, the University of Maryland's (UMD) four undergraduate nominees have been awarded scholarships by the Barry Goldwater Scholarship and Excellence in Education Foundation, which encourages students to pursue advanced study and research careers in the sciences, engineering and mathematics.
UMD's 2020 Goldwater Scholars are:
Jesse Matthews (pictured left), a junior chemical engineering (ChBE) and mathematics dual-degree student who is also a member of the University Honors program in the Honors College
Scott Moroch, a junior majoring in physics with a research appointment in materials science and engineering (MSE), advised by MSE Assistant Professor Tim Koeth
Seungtaek Daniel Oh, a junior majoring in biological sciences with a specialization in cell biology and genetics who is also a member of the Integrated Life Sciences program in the Honors College
Pavan Ravindra, a junior biochemistry and computer science dual-degree student who is also a member of the Integrated Life Sciences program in the Honors College
Over the last decade, UMD's nominations yielded 33 scholarships—the most in the nation, followed by Stanford University with 32. Harvard University, the Massachusetts Institute of Technology and Johns Hopkins University also rank in the top 10.
Goldwater Scholars receive one- or two-year scholarships that cover the cost of tuition, fees, books and room and board up to $7500 per year. These scholarships are a stepping-stone to future support for the students' research careers. The Goldwater Foundation has honored 70 UMD winners and five honorable mentions since the program's first award was given in 1989.
ABOUT JESSE MATTHEWS
Matthews, a Banneker/Key Scholar from Silver Spring, Md. is working to make safer lithium-ion (Li-ion) batteries. Li-ion batteries typically contain a liquid electrolyte, through which the lithium ions move. Matthews is developing new, non-flammable solid polymer electrolytes, which would be inherently safer than liquid electrolytes for applications like implanted biomedical devices.
Matthews synthesized and characterized two solid polymer electrolytes. The first allows lithium metal to be safely used as the battery anode, which results in a battery with higher energy density. The second incorporates water as a component, which results in improved battery safety and no need for a dry manufacturing environment. Matthews demonstrated that batteries incorporating these electrolytes can function for hundreds of charge-discharge cycles without significant fade in energy output. Next, he plans to characterize and improve the interfaces between the electrolytes and electrodes to improve battery cell performance.
He has conducted research alongside Peter Kofinas, chair of UMD's Department of Chemical and Biomolecular Engineering, for two years with scholarship support from the university's ASPIRE (A Scholar's Program for Industry-Oriented Research in Engineering) program.
Matthews co-authored a paper accepted for publication in the journal Electrochimica Acta and was selected as the top student poster presenter in a fuels, petrochemicals and energy category at the 2019 American Institute of Chemical Engineers Annual Meeting. He also received the Dinah Berman Memorial Award, which honors one junior engineering major at UMD who shows outstanding scholastic, leadership and service endeavors.
"These are remarkable accomplishments for an undergraduate and clearly demonstrate a strong work ethic," Kofinas said. "I am confident he will contribute to many more impactful experimental results over the remainder of his undergraduate career."
In the field of mathematics, Matthews worked for two summers with Radu Balan, a professor of mathematics and the Center for Scientific Computation and Mathematical Modeling, to improve noise reduction in signal processing for speech recognition and X-ray crystallography.
Matthews also takes time to help others. Last summer, he mentored four high-school students on a research project as part of the university's ESTEEM (Engineering Science and Technology to Energize and Expand Young Minds) Summer Engineering Research-Quest for underrepresented minorities.
After he graduates, Matthews plans to pursue a Ph.D. in chemical engineering focusing on developing innovative alternatives to current energy production methods.
Published March 31, 2020