Five Clark School Undergraduate Students Receive Dean's Awards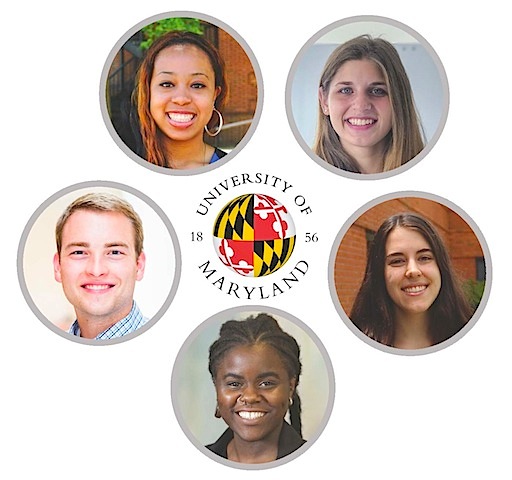 Five undergraduate students from the University of Maryland Clark School of Engineering were honored at the 2018 Annual Engineering Honors and Awards Ceremony today for their outstanding excellence in academics, leadership and service.
Soliver Fusi and Kenya Colvin are both Chemical and Biomolecular Engineering (ChBE) majors, while Haroula Tzamaras, Jeffery O'Neal and Rachel Romano hail from the Department of Mechanical Engineering (ME).
Fusi, who received the Kim Borsavage and Pamela J. Stone Student Award for Outstanding Service, has served as President of the Chem-E-Car Team, a Clark School Ambassador, the Academic Excellence Chair for the National Society of Black Engineers, and is currently the Vice President of the Chemical Engineering Honors Society. She has worked as a teaching assistant in various chemical engineering courses, and is a mentor for both ChBE and the Clark School. Fusi is set to graduate this May, and will begin her Ph.D. studies at the University of California, Berkeley, in the fall.
Colvin received the A. James Clark School of Engineering Leadership Award. She is a member of the Honors College and received her citation from the Advanced Cybersecurity Experience for Students Honors Program. Colvin, who serves as an ambassador for both the Honors College and the Clark School, is also a Ronald E. McNair Scholar, conducting research in the Fischell Department of Bioengineering. She is currently focused on designing an automated point-of-care diagnostic tool powered by the chemical temperature control of phase change materials, and is on track to complete her studies in the fall of 2018.
Tzamaras is the recipient of the A. James Clark School of Engineering Dean's Award. A senior ME student with a minor in international engineering, she is a member of the QUEST Program and an alumna of the Flexus Program. Tzamaras has been a teaching fellow for the engineering school, the business school and Education Abroad. She is the Event Planner for the American Society of Mechanical Engineers UMD Chapter, and has chaired the Women in Engineering Student Advisory Board. Upon graduation, Tzamaras will join Stanley Black and Decker.
O'Neal is the winner of the A. James Clark School of Engineering International Student Award. O'Neal is a junior ME major, pursuing minors in Spanish and Project Management. He is a member of the University Honors Program and RISE Leadership Academy. As an active member of Engineers Without Borders, O'Neal has served as a sub-group lead in the Peru Bridge Project, Fundraising Chair, and President. This past January, O'Neal traveled to Sierra Leone to help expand current rain catchment systems. He is also a Teaching Fellow in the Keystone Program for Mechanics I, and has studied abroad in Spain and New Zealand.
Romano is the recipient of the Dinah Berman Memorial Award. Romano is a junior ME student minoring in Sustainability Studies. She is a member of the University Honors Program and the RISE Leadership Academy. Romano is a co-leader of the solar sub-team within the Sierra Leone project group for Engineers Without Borders. She is a teaching fellow for the Flexus seminar led by Veronica Perrigan, and works at the Engineering Career Services Office as a peer advisor. Additionally, Romano is a member of Tau Beta Pi and will work as a SEEDS mentor later this fall.
Published April 11, 2018