Ehrman Receives Faculty Award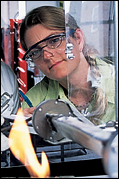 Associate Professor Sheryl Ehrman is the 2006 winner of the E. Robert Kent Outstanding Teaching Award for Junior Faculty.
Ehrman is a recognized researcher in aerosol science and technology, and the related topic of air pollution. Her teaching ranges from the senior technical elective in this field to our most basic introductory engineering course; colleagues and students alike cite her passion for teaching, and especially her powerful motivational abilities, across this wide array. She has served as her department's graduate program director, working to recruit and retain great students, and is deeply engaged in supervising undergraduate research projects and outreach activities that target women and minorities.
Published January 4, 2007