Clark School Grads May Have the Next YouTube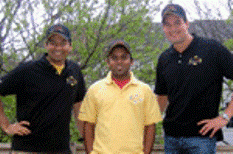 Two Professional Master of Engineering graduates and a Ph.D. Chemical Engineering graduate hope their new website may be the next YouTube. Their site,
doFlick
, is more than entertainment. doFlick is for short videos that show you how to do things -- all kinds of things, from how to bend a tube for a science lab to talking with helium to how to make guacamole to demonstrating a drum and bass groove. People can submit their videos to doFlick and watch other people's video, all at no cost. Advertising sales will support the site.
The brains behind doFlick are Rama Sreenivasan, who received his PhD in chemical engineering this May, Shiva Pandit, who received his Master of Engineering specializing in electrical and computer engineering in May, and Luis Corzo, '05 Master of Engineering graduate specializing in Project Management. They met in an entrepreneurship class offered by the Clark School's Professional Master of Engineering program and Maryland Technology Enterprise Institute (MTECH), each looking to create a business they could get excited about and that could benefit people.
They toyed with a lot of ideas, getting together every 2 weeks for a year at Noodles & Co., well after their class had ended, searching for something that really grabbed them. They got to talking about how when working in labs, they had lots of duties with lab equipment that there were no instructions for. They thought video could help in lots of lab situations and other places where seeing how something is done is better than reading about.
So the three of them borrowed video cameras and went out to professors and others to record all kinds of things that people want to know how to do. They invested their own money in getting the site ready and now they are busy telling people about it and talking to investors.
"With doFlick, my goal is to spread the knowledge beyond boundaries," said Pandit. "Having spent my primary school years in the rural areas of southwestern India and with both my parents being primary school teachers, I have the first hand experience on how difficult it is to get practical knowledge of what we study in school. It is my personal goal to make such information freely available on demand via doFlick."
Sreenivasan's parents are traveling from India to see him graduate at the College of Engineering ceremony on Monday, May 21. Corzo is of Venezualan and Nicaraguan descent. He now works for the Navy in the D.C. area and hopes to eventually return to South America to use his engineering and other skills to improve the infrastructure and life in those countries. Pandit is a senior software engineer for Texas Instruments.
Published May 22, 2007