Clark School Alumnus and BOV Member Waggner Passes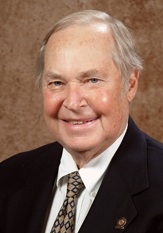 University of Maryland A. James Clark School of Engineering Alumnus and Board of Visitors members Charles E. "Chuck" Waggner passed away on December 17, 2013. He was 81.
"He was a valued and dedicated member of our Clark School Board of Visitors, and was also simply a great human being who genuinely cared about others," said Clark School Dean and Farvardin Professor Darryll Pines.
Waggner was born in Baltimore, Maryland and was a graduate of Baltimore Polytechnic Institute. He received a bachelor of science degree in chemical engineering from the University of Maryland, where he excelled in track and field and was the captain of the University's cross country team. He later obtained a juris doctor degree from Loyola University in Chicago.

Waggner enjoyed a distinguished career in the petrochemical industry, first working for Standard Oil in Baltimore and then moving to Illinois to join Cosden Oil Company, eventually transferring to Cosden's New York offices. The majority of his career was spent as a partner and Executive Vice President of Esselen Associates in Darien, Ct., where he worked until his passing.

At 46, Waggner became an avid marathon runner, completing upwards of 70 marathons. In addition to competing in New York, Boston, and Houston, he ran internationally, achieving a personal best time of 2:55:36 at the London marathon.
He is survived by his wife of 33 years, Joan: six children: Robert, Sharon, Nancy, Mark, Ellen, and David; step daughters Christine and Torrey; and 11 grandchildren.
Read his full obituary here.
Published December 30, 2013