Chemical and Biomolecular Engineering wins 2023 Alumni Cup Title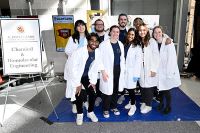 The Chemical and Biomolecular Engineering students have emerged victorious in the 12th annual Clark School Alumni Cup. The event brought together students, faculty, staff, and alumni gathered to support their teams in the Kim Engineering Building Rotunda.
The Alumni Cup is an annual engineering design competition that was started in 2012 by the Engineering Alumni Network, formerly known as the University of Maryland Alumni Association's Engineering Chapter. The event takes place each year during National Engineers Week, which raises awareness and support for the roles engineers play in creating, designing, and building the world around us.
The members of the winning team include:
Becca Gibbons
Matthew LiCausi
Lane Crofton
Thomas Ogunsola
Scott Sritharan
Samaa Zaman
Elisa Zeng-Mariotti
Jillian Schwartz
Published September 15, 2023