Chem-E Car Sponsor Hosts Team Visit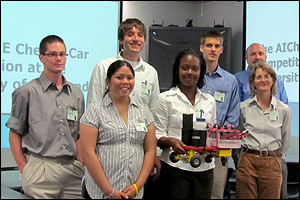 The Department of Chemical and Biomolecular Engineering's (ChBE) Chem-E Car team recently visited sponsor W.R. Grace Foundation's Columbia, Md. campus. Five members of Team Thirsty Turtles, accompanied by ChBE professor and chair Sheryl Ehrman, had the opportunity to visit labs and meet researchers dedicated to catalysts, analytics, industrial scale-up and petroleum refining. After a luncheon with their hosts, they delivered a presentation about their vehicle. The visit was arranged by W.R. Grace & Company biocatalysis program manager and ChBE advisory board member Dr. David G. Ward.
The American Institute of Chemical Engineers' (AIChE) Chem-E Car Competition challenges teams of students to design and construct a small, chemically powered model vehicle. The cars must carry a specified cargo over a distance only revealed at the competition, and stop as close to a finish line as possible. Any kind of chemical reaction may be used to power the cars, which are not remote-controlled. Each team must carefully calculate the duration of the reaction required when they are told how far their vehicle must travel.
Team Thirsty Turtles, advised by ChBE assistant professor Chunsheng Wang, won the AICHE's mid-Atlantic regional conference competition held at Penn State University in April 2011. They will head to the finals at the society's national conference in Minneapolis, Mn. in October.
ChBE and the Thirsty Turtles thank the W.R. Grace Foundation for their generous support and invite everyone attending the 2011 AIChE national meeting to root for the team's vehicle, Raphael, at the final competition on Sunday, October 16.
Published September 14, 2011