ChBE Shines at Maryland Day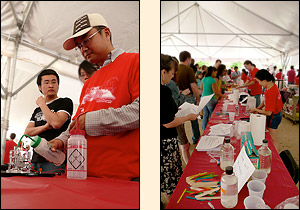 Department of Chemical and Biomolecular Engineering faculty, staff and students were on hand for the 10th annual Maryland Day to show both kids and adults that science is not only everywhere in our lives—even in ordinary things around the house—but can also be fun.
Maryland Day is the university's free, all-campus open house event that invites families, friends and neighbors of all ages explore everything UMD has to offer. ChBE's exhibits, part of the "Science and Tech Way" tour route, offered visitors the opportunity to try a wide variety of hands-on demonstrations and experiments that were entertaining, educational, and in some cases slimy!
The Department's student chapter of the American Institute of Chemical Engineers (AIChE) won the Engineering Student Council's "Best Overall Project Award" for their contributions. AIChE also won the award in 2004, as well as the "Most Creative Project Award" in 2006 and 2007.
Between the Department, AIChE and the Chemical Engineering and Bioengineering Society (ChEBES, a graduate organization), chemical and biomolecular engineering was prominent on the Jeong H. Kim Engineering Building's plaza, covering two locations and eight tables' worth of activities.
Hands-on demonstrations included:
"The Myth of the Exploding Stomach," which explored exactly what happens when Mentos candies are dropped into Diet Coke;
"Holler for the Polymer," which explained that some things we think are made of rubber are actually made from polymers, and let kids mix up, decorate and take home their own polymer bouncing balls;
"Does Eating Spicy Food Raise Body Temperature?", which dared visitors to find out for themselves by eating some hot salsa;
"Slime," which demonstrated how "connector" molecules crosslink with others to form long polymer chains;
"Super Soaker Gel," which got to the bottom of why diapers are so absorbent (no pun intended!);
"Baking Soda Painting," which used ordinary household items to let kids create red-and-gold masterpieces by alternating whether paper was exposed to an acid or a base (in this case, vinegar and baking soda).
"Fuel Cell," in which a direct methanol fuel cell was used to teach visitors how methanol, a renewable resource, can be used to provide clean fuel to vehicles, power devices, and for energy storage;
"Ferrofluid," which let kid guide nanoparticles of iron though an oil-and-alcohol solution with a magnet; and
"Cartesian Divers," which demonstrated the interaction of weight, buoyancy force and compression by having kids create their own colorful octopus and making it dive and resurface in a plastic bottle.
Published May 1, 2008