ChBE Lecturer Deborah Goldberg Receives 2017 Outstanding Faculty Service Award from the Clark School of Engineering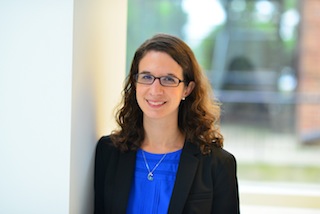 Deborah Goldberg, a lecturer in the UMD Department of Chemical and Biomolecular Engineering, has been selected to receive the 2017 Outstanding Faculty Service Award bestowed by the A. James Clark School of Engineering. This award recognizes faculty members who have given outstanding service to their Department, the School, and the University.
Dr. Goldberg, a dedicated instructor, consistently receives high teaching evaluation scores, even for the most difficult courses. "She is effusively praised for her clear lectures, fairness, concern for students and responsiveness to feedback," said Peter Kofinas, ChBE Professor and Chair. "Her contributions to students, both in the personal and professional domain, have been incredibly valuable."
In addition to teaching various courses – such as ChBE333: Chemical Engineering Seminar, and ChBE422: Transport Phenomena I – Goldberg also proposed and developed ChBE100, a new 1-credit freshman seminar that will be offered next spring. ChBE100 is designed to help students – via alumni guest speakers, peer mentoring, and group projects – figure out what career options are available to chemical engineering students, what resources are available to help them succeed in the major, and how to get involved in extracurricular activities (i.e. co-ops, internships, study abroad programs, etc.).
Dr. Goldberg developed and implemented a peer-mentoring program specifically designed to ease new student transition into the ChBE curriculum, in addition to providing upper-class students with leadership experience. The pilot program, initiated last summer, was a success and will be offered again next semester.
Outside of the classroom, Dr. Goldberg has devoted numerous hours to not only advising students on how to be academically successful, but also preparing them for job interviews and the professional work environment after graduation.
Dr. Goldberg will be honored with this award at the winter commencement ceremony on December 20th.
Past recipients of this award include Aerospace Engineering Associate Professor Raymond Sedwick, Civil and Environmental Engineering Professor Deborah Goodings, and ChBE Professor and Chair Peter Kofinas.
Related media:
ChBE101 Students Participate in Pilot Student Mentoring Program – UMD/ChBE, August 2017
Published December 18, 2017