ChBE Alumnus Appointed to National Taiwan University Faculty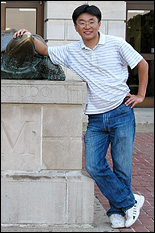 Alumnus Shih-Huang Tung (Ph.D. '07) has accepted a position as an Assistant Professor in the Institute for Polymer Science and Engineering at
National Taiwan University
(NTU), the most prestigious university in Taiwan. Tung is also a NTU alumnus—he earned his B.S. in chemical engineering and his M.S. in materials science and engineering there.
Tung's research at NTU will be focused on the growing field of soft materials, with an emphasis on the characterization of self-assembled biomolecular nanostructures and block copolymer ultra thin films. His research group is using block copolymers and biomolecules such as lipids, bile salts and proteins to form a variety of nanostructures in solutions and in thin films. The applications of the work range from drug delivery to photovoltaic devices.
While attending the University of Maryland, Tung, who was advised by Associate Professor Srinivasa Raghavan, worked in the Complex Fluids and Nanomaterials Group. His discoveries included a new method of forming nanoscale containers called vesicles in organic liquids, and a new method of converting organic solvents, including volatile or flammable liquids like gasoline and kerosene, into gels. Both processes could have commercial potential, and provisional patents on them have been filed by UMD's Office of Technology Commercialization.
After earning his Ph.D., Tung held a one year postdoctoral position with the Department of Materials Science at the University of California-Berkeley, where he conducted research on block copolymer films.
"I really enjoyed my four years of studying at UMD," he says. "I liked the weather, the culture, the beautiful campus and the natural environment there….Hiking in the forest and crabbing in Chesapeake Bay were my favorite activities outside of my busy research life. I learned a lot in the classes I took—not only professional knowledge, but also how the professors teach and about their enthusiasm for delivering their ideas."
Tung's success comes as no surprise to Raghavan. "Shih-Huang was one of the best graduate students we have had in our department in the past several years," he says. "His productivity was phenomenal. He published seven papers in four years, and he was the first author on five of them. These include two papers in JACS [Journal of the American Chemical Society], one of the highest-impact journals in the chemical sciences. He was very independent and very creative."
The feeling of respect is mutual. "Dr. Raghavan led me into a fascinating scientific world and allowed me to devote myself to research without interference," Tung tells us. "My writing and presentation skills also improved under his guidance. Those research and teaching experiences at UMD have greatly supported my pursuit of an academic career."
Learn More:
Visit Professor Tung's homepage on the NTU web site »
"Tiny Containers That Make and Pack Themselves" »
An overview of vesicle research for everyone.
Visit the Complex Fluids and Nanomaterials Group web site »
Published September 18, 2008