ChBE Alumni Recreate Toys That Inspired Them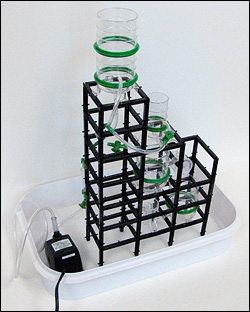 Department of Chemical and Biomolecular Engineering alumni Carol and Paul Flack (B.S. '84 and '77, respectively) are using their manufacturing and business experience to create building kits in the spirit of one of Paul's favorite childhood toys, the Kenner Girder & Panel Building Set. The toys, which reflect themes including bridge design, girder and panel construction and hydrodynamic systems, allow kids to create structures based on actual engineering and architectural principles.
Since opening for business in 2005, Bridge Street Toys has received numerous awards for its products, including the Parents' Choice Recommendation from the Parents' Choice Foundation, the Family Magazine Group's 2006 Family Choice Award, Dr. Toy's Product of Excellence Award, the National Parenting Center Seal of Approval, a Best Products of 2007 award from iParenting Media, and National Parenting Publication Awards Honors. The company's Tekton Tower building design set was featured in a 2005 segment about educational Christmas gift ideas on CBS' The Early Show, and the Flacks were recently profiled on the Design News web site.
For More Information:
Visit the Bridge Street Toys web site »
Read "Engineer's Toy Becomes a Profession" at the Design News web site »
Published December 5, 2011