Bill Weigand, Former ChBE Faculty Member, Dies at 84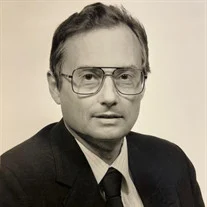 Bill Weigand, a former faculty member of the Department of Chemical and Biomolecular Engineering at the University of Maryland, passed away on Saturday, February 25, 2023.
Bill, a lifelong educator, spent 45 years serving as a professor of chemical engineering at Purdue University, West Lafayette; Illinois Institute of Technology (IIT) Chicago, and the University of Maryland, College Park since 1988 where he retired in 2013. He also worked as a program director for the National Science Foundation in the Biochemical Engineering and Biotechnology Programs division.
At the University of Maryland, where Bill's work spanned a quarter of a century (1988-2013), he received the Celebrating Teachers Award in 1999 and the outstanding Teachers Award from the Student Chapter of the American Institute of Chemical Engineers for 2001-2002. In 2002, Bill was nominated for the Outstanding Advisor of the Year Award 2002 by the University of Maryland Parent's Association. Bill was devoted to teaching. At the University of Maryland, he helped graduate over 20 Chemical Engineering PhD students and about 30 MS students.
"Bill will be remembered for his outgoing personality and sense of humor, he will be missed," said Professor Peter Kofinas, Chair of the Department of Chemical and Biomolecular Engineering. Other tributes have been coming in from Bill Weigand's friends and colleagues.
"I am saddened by the passing of my former colleague and scholar Professor William Weigand at the University of Maryland. He taught biochemical engineering, chemical engineering thermodynamics, and chemical process control during his tenure at Maryland and his rich industrial experiences and insights were delivered to chemical engineering undergraduate students for many years. He was liked by students for his excellent teaching. I remember him as an excellent scholar and professor," Kyu Yong Choi, a professor at the Department of Chemical and Biomolecular Engineering and one of Bill's colleagues at the University of Maryland, wrote in the Lasting Tribute Wall. William Bentley, a colleague who started teaching in the same year as Bill and a professor at the Institute for Bioscience and Biotechnology Research, University of Maryland, wrote:
"Bill Weigand was an immense help to me professionally. We started at the same time (1989) - he was a full professor charged with helping to grow an academic strength in biochemical engineering. At the time, the chemical engineering department (especially within the biochemical engineering field) was focused on industrial interactions, perhaps more so than research. I was hired straight out of graduate school, no postdoc, which by today's standards is unheard of. He helped me get acclimated to the role of being a faculty member when the graduate students were nearly my same age. Having limited startup funds, I had support for only two graduate students even after winning a prestigious Research Initiation Award from the National Science Foundation. Bill "shared" his graduate students, exposing those who wanted to work on recombinant DNA technology, to our group. In the end, one or two actually switched over to my group after I'd received even more external funds. He certainly didn't need to do that, but it was a game changer for me. One of those students, Matt DeLisa, is now a chaired professor at Cornell. Throughout my career, Bill provided wisdom and guidance that I'll never forget or no longer appreciate. He will be truly missed."
Bill was born in Chicago, Illinois, on October 26, 1938, to William Jacob Weigand and Anne Weigand. He graduated from Gage Park High School in Chicago. Bill continued his studies at the Illinois Institute of Technology (IIT), earning his Bachelor's and Master's degrees in Chemical Engineering. He worked at Esso Oil Company in Baton Rouge, Louisiana. He returned to Illinois Institute of Technology where he earned his PhD in Chemical Engineering. Bill was an avid skier and enjoyed many ski trips with the Fleet Wind Ski Club of Chicago and the Pentagon Ski Club of Washington, DC.
Published March 7, 2023