Amy Karlsson Receives ASEE's Martin Award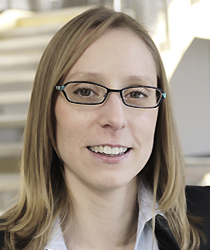 Amy J. Karlsson, an associate professor in the Department of Chemical and Biomolecular Engineering (ChBE) at the University of Maryland (UMD), is the recipient of the 2021 Joseph J. Martin Award offered by the American Society for Engineering Education (ASEE) Chemical Engineering Division.
Karlsson and her collaborators from chemical engineering departments across the country were recognized for their paper, entitled "Using Incident Reporting to Integrate Hazard Analysis and Risk Assessment into the Unit Operations Lab," which was presented at the 2020 ASEE meeting. The work focused on improving process safety education in the unit operations laboratory through the development and implementation of a safety incident reporting tool to improve students' understanding of and appreciation for process safety.
The Joseph J. Martin Award is presented for the most outstanding Chemical Engineering Division paper presented at the ASEE Annual Conference.

The mission of the ASEE Chemical Engineering Division is to build and maintain a community network to inspire and support advances in chemical engineering education, outreach and industrial practice. The division, which also sponsors a Summer School event for chemical engineering faculty, also publishes the quarterly journal Chemical Engineering Education.

For additional information, please visit the ASEE website: https://peer.asee.org/35464
Published August 11, 2021