Alumnus Wins World Nuclear University Fellowship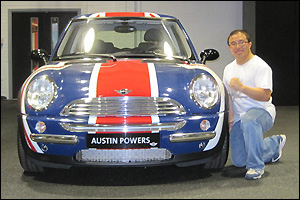 Clark School Department of Chemical and Biomolecular Engineering alumnus Quynh Nguyen (Ph.D. '03), formerly advised by Professor Sheryl Ehrman, was awarded a fellowship to attend the World Nuclear University's (WNU) 2010 Summer Institute, held at Christ Church College, University of Oxford, England.
Nguyen joins approximately 100 other fellows from 30 countries in the six-week program, which offers up-and-coming nuclear professionals under the age of 35 technical tours of nuclear facilities, lectures presented by internationally recognized subject matter experts, and working groups designed to encourage networking and foster new collaborations. The lectures cover a variety of research and industry topics including electricity for developing nations, nuclear-powered desalination of water, reducing carbon emissions, and special uses of nuclear technology.
Nguyen is currently the Office Technical Assistant for the Office of Nuclear Reactor Regulation at the U.S. Nuclear Regulatory Commission (NRC). In this role he works with the Office's executive team to coordinate the efforts of its 600 staff members in its mission of "protecting the safety and health of the public and the environment." Nguyen was one of two nominees from the NRC selected for Summer Institute fellowships.
"As the leading nuclear regulatory body in the world, [the NRC] shares and receives best practices from the international community to ensure the safe operation of nuclear power plants," he explains. "Our goal is to use our experience at the WNU Summer Institute to establish strong working relationships with our colleagues the global [nuclear] community. On a personal note, I hope my experience will help me secure a one-year Congressional Fellowship to work on Capitol Hill as a staffer."
Nguyen says he's enjoying his free time in Oxford as much as the Summer Institute. "I visited the MINI Cooper manufacturing facility in Oxford, dine daily in Christ Church's dining hall (the one used as a set for Hogwarts' dining hall in the Harry Potter movies!), and plan on seeing all the sights in London," he writes to us from England. "[The WNU Summer Institute has] been a great opportunity to work and build friendships with brilliant people from around the globe."
For More Information:
Visit The World Nuclear University web site »
Visit WNU Summer Institute homepage »
Visit U.S. Nuclear Regulatory Commission web site »
Read Quynh Nguyen 's alumnus profile »
Published July 12, 2010