A Longer Life for Lithium Ion Batteries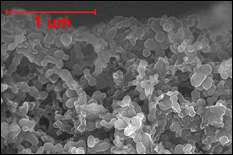 Recently published research by Department of Chemical and Biomolecular Engineering assistant professor Chunsheng Wang and postdoctoral research associate Dr. Juchen Guo describes the synthesis of a new and improved electrode composite for use in rechargeable lithium ion (Li-ion) batteries that could substantially increase their functional lifespan.
Rechargeable Li-ion batteries are used in a wide range of products and equipment, and have shown potential for use in electric vehicles. But before that can happen, Guo says, they need to be more durable and store and put out more power.
"A current challenge to developing lithium ion batteries with higher energy is replacing the current low capacity negative electrode, which is made of graphite, with a new material with a much higher capacity," he explains. "Silicon is a good candidate in terms of its capacity, which is ten times higher. However, the great shortcoming of silicon is that during the charge/discharge process, silicon particles undergo large changes in their volume as the lithium ions are inserted and extracted. This causes a lot of stress, and as a result the silicon particles will eventually be pulverized, and the battery's electrode structure will be demolished."
Most previous research on this problem focused on the nano-sized silicon particles themselves, or silicon nanowires, but improvement was limited. Guo and Wang came up with a different approach.
"The idea was to incorporate nano-size silicon particles into a 3D scaffold structure made of polymer," says Guo. "The porous structure of the scaffold can accommodate the volume change of the silicon particles, keeping the electrode intact and increasing the lifespan of the battery. Our results demonstrate a significantly improved cycle life compared to those reported in most of the previous studies."
For More Information:
Juchen Guo and Chunsheng Wang. "A polymer scaffold binder structure for high capacity silicon anode of lithium-ion battery," Chem. Commun. 2010, 46, 1428–1430 »
Visit Professor Wang's web site »
Published September 20, 2010