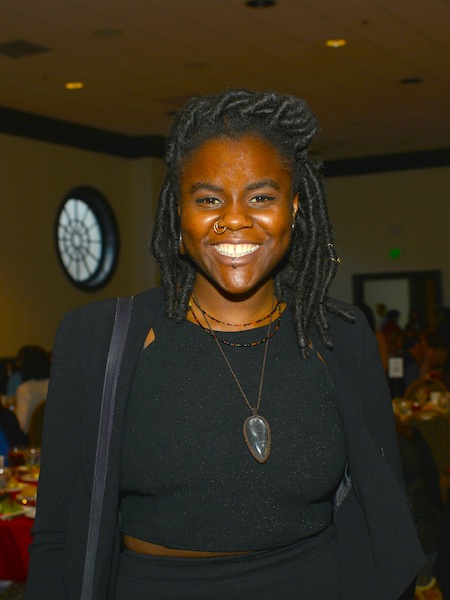 Cheers, to the recruitment and retention of minorities in STEM!
In 2018, Soliver Fusi received the Kim Borsavage and Pamela J. Stone Student Award for Outstanding Service.
In addition to making excellent marks, Fusi is heavily involved in campus initiatives. She has served as President of the Chem-E-Car Team, a Clark School and ChBE Department Ambassador, the Academic Excellence Chair for the National Society of Black Engineers, and as the Vice President of the Chemical Engineering Honors Society.  Fusi has worked as a teaching assistant in various chemical engineering courses, has served as a mentor for both ChBE and the Clark School, and sat on an Empowering Voices in Engineering (EVE) panel where she discussed her experience as an African American woman on campus. Additionally, she was a member of the 2018 ChBE Alumni Cup Competition team, and won an award for an essay she submitted to the Express Yourself contest, which encourages diversity and community building on campus.
Fusi is set to begin her Ph.D. studies at the University of California, Berkeley, this fall and will be missed!
"Cheers"
Written by S. Fusi
Cheers, to the recruitment and retention
of minorities in STEM:
women, blacks, LGBTQ;
that comes, guaranteed,
with
I just don't think I can do it sometimes
I wonder if my hair is blocking/bothering them
'How can he never have heard of imposter syndrome?'
that comes, accompanied, with
I think he's cute, but he's white, so he won't really like me
Damn hierarchy;
he'll like that I'm strong
I'm sassy, or bossy, when I need to be
he'll project images seen on the t.v.
of what You want us to be
yea but, I also want us to be
thrilled when our code runs
when we learn something scientifically meaningful, via discovery,
because we'd devoted the necessary resources to
acquiring the relevant knowledge
here's to the minorities in STEM
because these thoughts are not your own  
of hierarchy,
of lacking ability
etc.
     
Your thoughts are that you were, in part,
bred for this
and all else you fall
in love with doing
here's to the minorities in
Science
Technology
Engineering &.
Mathematics
here's to you
for making it this far
(and refill for how much further you'll make it)
holding burdens that are attributed to
why you are labeled a 'minority'
ain't nothing about you that's minor
not the list of things you should be putting on your resumes
not the dreams backed by successes thus far
Damn.
Here's to us in STEM
and here is to everywhere
I promise we will go.              
Top