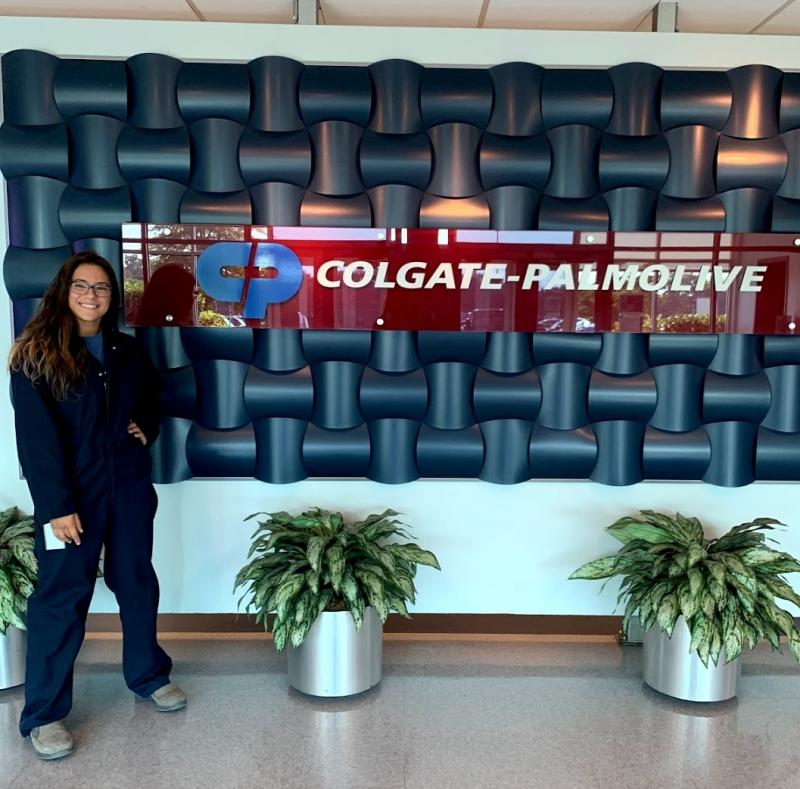 There are so many career options and paths available to me as a chemical engineer!
Lily Granzow
Hometown: Glenn Dale, MD
Expected grad date: Spring 2021


Can you tell us about your background? Where you grew up and what brought you to campus?
I grew up in Glenn Dale, Maryland, in Prince George's county. My mom was a teacher and my dad was a firefighter. When I was little, I loved creating, building and teaching. I would create math worksheets and science projects for my little sisters (I was a harsh grader!), and I loved to experiment and design. I was in a STEM club in middle school and then in an engineering program in high school. I was also in a pharmacy program in high school, which partially influenced my pursuit of chemical engineering.
When I came to UMD, I was a part of the Entrepreneurship and Innovation Honors College and the Flexus Women in Engineering (WIE) program. I joined a club called Women in Engineering Leadership Development and in the spring of my freshman year, I became the program coordinator of the club, inviting industry professionals in for panels and info sessions.
I started research in the Functional Macromolecular Lab in the spring of my freshman year as well. I spent my first college summer running the girls engineering summer camps with the WIE program. After my work that summer, I was inspired to work on a STEM business project in my Entrepreneurship and Innovation Honors College program and ended up winning the capstone competition's top prize with the project!
During my second summer at UMD, I had an internship with Colgate Palmolive's Global Supply Chain program, where I applied my chemical engineering knowledge and business mindset to a waste-reduction project. I spent my junior year completing advanced chemical engineering courses while working for the engineering school as a Clark School Ambassador Coordinator, running prospective student events. Along the way, I learned from my professors' research and industry experience and have greatly appreciated their guidance. I have taken a few classes with Dr. Goldberg who has inspired me with her passion for engineering and teaching and I am excited to continue to learn from her and my other professors in my senior year of college.
Why did you choose to study at UMD?
Three reasons: campus energy, great resources and community.
When I was a prospective student applying to college, I liked how comfortable I felt on UMD's campus during prospective student events and tours. I used to come to campus to watch sporting events with my family and friends growing up and I could feel the energy of the campus community at those games.

I came from a small, all-girls, Catholic high school, so the contrast of resources and opportunities available on UMD's large campus drew me in. I was also drawn to the communities here, and after being part of the Honors College living and learning community, as well as the WIE community and other organizations, I was able to experience the closeness that I enjoyed from my small high school experience.
UMD is a great school for building connections and gaining attention from a multitude of employers, as D.C. and other large cities surround College Park. The proximity of campus to home helped my decision as well.
How did you hear about ChBE and what prompted you to declare it as your major?
I heard about ChBE from engineering information sessions that I attended on campus in high school. I remember listening to Professor Sriram's information session presentation at a few events, and feeling slightly overwhelmed!
At that point in the application process, I thought I wanted to pursue engineering, but even after four years of engineering classes in high school, I wasn't sure. A few teachers in high school warned me of the challenges of the major, and I was intimidated, but decided to go for it! In my very first chemical engineering class, we had an assignment with material balance problems involving concentrating orange juice and making strawberry jam, and I loved it!
As I progressed in my coursework, I enjoyed my classes, despite the challenges where I had to reset my priorities and adjust my learning styles and habits. I enjoyed hearing about future careers in industry from my professors, and I was happy with my decision to pursue chemical engineering.

What did you research in the Functional Macromolecular Laboratory entail?
In this lab, run by [ChBE Professor and Chair] Dr. Kofinas, I worked on a few small projects with hydrogels and biosensor technologies. We applied these to the Botulinum toxin, also called Botox (the botulinum toxin can cause botulism, a serious illness that attacks the body's nerves). One of the lab's focuses was developing a hydrogel biosensor that changes color when it detects the toxin in small amounts in the human body.
I am thankful to have the opportunity to contribute to a paper about how the photonic crystal color (the color of the hydrogel) is affected by centrifugation parameters. I also used computer-aided design (CAD) and code for a fluorometer device to analyze samples.
So, what has been the best thing about your experience on campus thus far? Any challenges you've had to overcome?
The best part of my college experience has been the people I've met through some amazing programs and classes I've taken.
I lived with and went to class with students in my Entrepreneurship and Innovation Honors program - which is a living and learning program consistently mostly of engineering, business and computer science students - so I formed a strong connection with them and would often go to the diner and play sports with them. Although I now live off-campus, my roommates and best friends are also from the program. The program staff were very knowledgeable and supportive in my college journey.
I met great people in my Flexus program through the seminar classes I took. The WIE staff welcomed me as a high school student at prospective student events and continued to welcome and encourage me as a college student, providing resources, networking and career prep and mentorship.
Outside of my major, I took several interesting classes. One was called The Power of the Tongue, taught by Dr. Ebony Terrell Shockley, which dove into topics of language in education and linguistic profiling. Communication class, which is a required general education class, was one of my favorites, taught by Dr. Joellen Barnhart. Classes like those two introduced me to students and professors with diverse backgrounds and perspectives, and learning from these perspectives has greatly shaped my experience at UMD.
And when you're not in class, how do you spend your time?
Outside of class, I love to stay active with friends! I've played on many intramural teams like soccer, softball, basketball and flag football, and I would play sports with my friends on La Plata Beach or McKeldin Mall. With D.C. just a few metro stops away, it was fun to go ice skating or to a concert on the weekends. I also find time to play piano and guitar, and paint. I have recently gotten more into expanding my cooking and baking skills, too - I make a bomb crispy chicken sandwich!
Do you have any post-commencement plans?
After graduation, my plan is to start in an industry position as a process engineer in the supply chain (process development and manufacturing) department of a biopharmaceutical or consumer goods company. I worked as a Global Supply Chain intern focusing on reducing waste at an oral care plant for Colgate Palmolive, and I hope to work for a biopharmaceutical company in the future. There are so many career options and paths available to me as a chemical engineer, so I could surprise myself even a year from now with new interests and plans.
Given the complexity of the major, as you mentioned, do you have any advice for incoming students as to how they can be successful?

Ask questions! Ask questions about your course content, about your career aspirations, about resources on campus. It's amazing how many opportunities (outside of engineering, too) are available for you as a UMD student. Take advantage of them. I fell into my first research position while talking with the department chair at an engineering yoga social event, and I found my first industry internship by seeing a flyer on a classroom door and attending an information session.
Just for fun, what do you want to be when you grow up?
When I am older and have my own family, I would love to have a huge garden and own a café or bakery. With my chemical engineering degree, I am excited to work in industry, and find a niche in a specific subject area, and then turn that niche into a small consulting firm.
Top