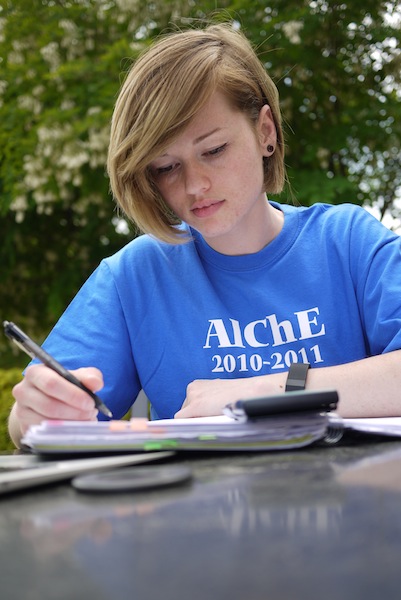 Focus, Focus, Focus; or, How I Survived Fluid Dynamics... would be the title of my memoir, should I ever choose to pen one.
We chatted with Lidiya to learn more about her experience as a ChBE undergrad, and to find out why she chose UMD for her studies.
Why did you choose to study at the University of Maryland?
I came to the University of Maryland almost by accident. Having earned a Bachelor's degree in film and animation, I relocated to the Baltimore area when my husband got a job offer there. I pursued opportunities in the animation field for a few years, but as assignments came and went, I found that not only did I not enjoy my daily routine and the work that went into the creative field I studied, I soon grew to dread it. Working with clients on something I would normally enjoy doing as a creative outlet was not for me. I decided to pursue engineering because of my love for math and science, something that I did not get to develop in my previous college career. Apprehensively, I checked out schools in the area, hoping I could avoid another long distance move. To my surprise, I found that UMD is a great local school, highly ranked, and that boasted a good program. It was meant to be.
Why did you decide to major in Chemical and Biomolecular Engineering?
The sheer breadth of applications in the field is what drew me to ChBE once my lack of aptitude for physics narrowed down my choices to "not mechanical engineering." Chemical engineering draws heavily from all sciences, and is considered to be one of the most challenging fields of study, which did not influence my decision initially, but which I have found rewarding throughout my pursuit of the degree. I have yet to decide on my specialization within the scope of chemical engineering, but with options ranging from pharma to industry to petroleum I know I will find my niche.
What has been the best thing about your academic experience here so far?
First, I found I thrive with a good challenge, and in some of my classes so far I have found that aplenty. The hard work definitely yields results, and it helped me develop a strong mental discipline in addition to learning new skills and material. As importantly, I have enjoyed the partnerships and collaborations I have had with my friends and fellow chemical engineering students.
What has been your favorite class, and why?
My favorite class to date was Fluid Dynamics (Transport I) and I am eagerly looking forward to the second installment in the spring semester of my Junior year. The material was among the most difficult I have encountered in my UMD career, but three factors helped me excel. I took the class "seriously". I attended every lecture, discussion, and TA-led office hour. The teaching assistants were incredibly patient and accommodating. The professor had an excellent, if slightly dry, sense of humor. I hope my other classes can be in any way similar to Fluids.
What is the hardest engineering class you have taken? Do you have any suggestions for other students about how to survive it?
Focus, Focus, Focus; or, How I Survived Fluid Dynamics (not only that, but got an A!) would be the title of my memoir, should I ever choose to pen one.Take advantage of the opportunities that are available to help you succeed from day one. On a rainy Monday morning few things seem sweeter than staying in bed for the next two hours, but if you ever get to the point in the semester when you need to "catch up," you never will. Your grades and mental well-being will suffer.
Go to class, take notes, go to office hours, choose study and homework groups VERY wisely, and do a million problems. You can read your notes a hundred times and "understand" the material, but if you cannot apply your knowledge to solve a problem, then you will struggle to pass your exams. You can definitely achieve a balance between work and play, but time dedicated to each activity should be proportional to its position on your priority list.
What do you like to do outside of class?
My greatest extracurricular pursuit so far was pursuing a set of 6 month co-ops. On the down side, it delayed my graduation for a year. On the other hand, in the course of my co-op I made great professional and personal connections, was able to dedicate a lot of my time to pursuing recreational activities such as sports (I took up boxing and trained for a triathlon), volunteered, and of course, I got paid. Additionally, because my first co-op was not engineering-related, I learned a lot of skills that I otherwise would not have, that will be adding value to my resume for a long time.
Lidiya completed her B.S. in Chemical Engineering in May 2016. Currently, she is a General Engineer with the Federal Aviation Administration. 
Top