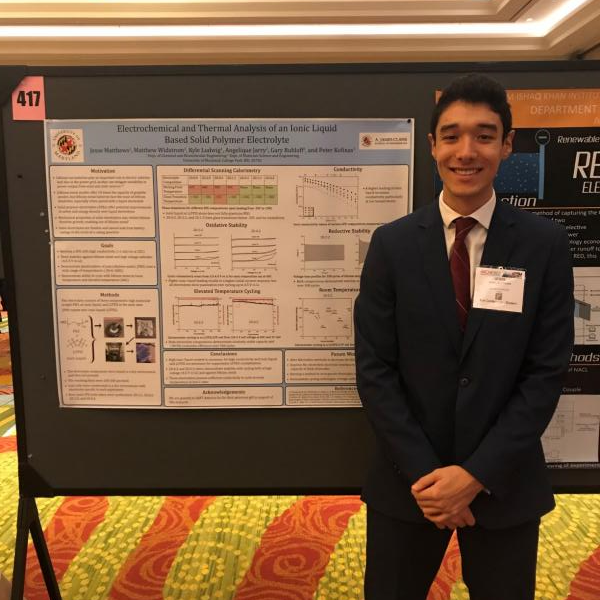 I love how ChBE research focuses on applying fundamental science concepts to create useful real-world products.
Name: Jesse Matthews
Hometown: Silver Spring, MD
Expected Graduation Date: May 2021
Please discuss your background a bit… why did you decide on UMD?  How did you learn about ChBE, and what drew you to this specialty?
All three of my older siblings attended UMD, so from a young age I was able to attend events like Maryland Day, and I was always amazed by the huge variety of work going on here. I also participated in a NSF REU (National Science Foundation Research Experience for Undergrads) in the UMD mathematics department during high school - I really enjoyed the beautiful campus and working with such bright students. Finally, UMD was by far the best value of the schools I was interested in, so attending here was an easy choice.
I learned about CHBE through a few high school teachers who recommended it for those having strong backgrounds in math and science. When I came to UMD and spoke with Dr. Kofinas, I learned about all the research being done in the department on real world problems such as energy storage and drug delivery. I love how ChBE research focuses on applying fundamental science concepts to create a useful real-world product. I personally am driven to develop novel solutions in energy production and storage to reduce our impact on the environment, and I really enjoy how the research and classes offered in CHBE relate to this goal.
What has been the best part of your experience at UMD? Any people, or events, in particular that have made the experience memorable?
My best experience at UMD has been joining the Kofinas Research Group and becoming close to my fellow lab mates. It was great to make friends who have similar interests to me, both in terms of research fields and outside hobbies and sports. I love the collaborative nature of being part of a lab as everyone helps each other out and provides feedback on each other's projects. I also really enjoy how joining a lab gives you a long term project that you get to work on for years, thus, see real progress.
The wonderful professors in the department have also made my experience so great! The professors all truly want to see their students succeed, and aim to engage everyone in class. They're happy to help you with your career development, from giving you advice and guidance to writing letters of recommendation.
What does your current research entail?
My research is focused on developing solid polymer electrolytes for lithium ion batteries. State of the art lithium ion batteries use liquid electrolytes, which are flammable and can result in battery fires and explosions. We aim to develop a non-flammable solid polymer electrolyte, which could enable safer batteries also with higher energy densities. These batteries could be used in many different applications, from typical consumer electronics to biomedical applications, where safety is paramount.
I was fortunate to be able to attend the 2019 Annual AICHE Student Conference in Orlando, Florida, to present my research at the student poster competition. I presented my poster, entitled, "Electrochemical and Thermal Analysis of an Ionic Liquid Based Solid Polymer Electrolyte" and took home 1st place in my division of Fuels, Petrochemicals, and Energy! This opportunity was provided to me by the AICHE chapter at UMD and the CHBE department, and it allowed me to gain experience presenting my research to other scientists as well as network with other CHBE students from around the world.
Have you conducted any internships or co-ops since staring your degree? If so, please discuss.
I haven't participated in any internships or co-ops, but I have had lots of great extracurricular opportunities through my research. One summer, I mentored four local high school students on a research project through the ESTEEM SER-Quest summer program through CMSE. I taught them fundamental sciences and lab skills, and assisted them on designing and carrying out their own research project. I really enjoyed watching them develop their skills as scientists and develop an interest in research.
When not in class, how did you spend your time?
I mainly spend my time outside of class in the lab, playing sports, or participating in puzzle competitions through the puzzle club at UMD. I participate in many intramural sports including volleyball, soccer and basketball. I also work as a Clark School Ambassador and attend events in the area catering to K-12 students who are interested in engineering at UMD.
Engineering is a complex major - have you any advice for students considering ChBE as their major?
My primary advice for students considering CHBE is to make sure to build a solid foundation in the introductory math, physics and chem/bio engineering classes, as this background is critical to succeeding in the more advanced classes. Whether this is through advanced classes in high school, or through the 100 level classes at UMD, it is so important to have a solid understanding of the underlying sciences.
Also, I would advise students to talk to faculty in the department about their research and try to get involved in research as early as possible. My research has provided me with countless opportunities and a great connection with the PI and graduate students in my lab. I also think research provides you with a great opportunity to apply what you learn in class to real-world situations.
Any plans for the future?
I plan to apply to graduate programs in Chemical Engineering following my graduation from UMD. I've always been interested in energy production and storage, so I would like to study technology that enables cleaner energy generation, such as photovoltaics or electrochemical energy storage. After obtaining my PhD, I'd like to conduct research on a similar topic, either in academia or a government lab.
Top