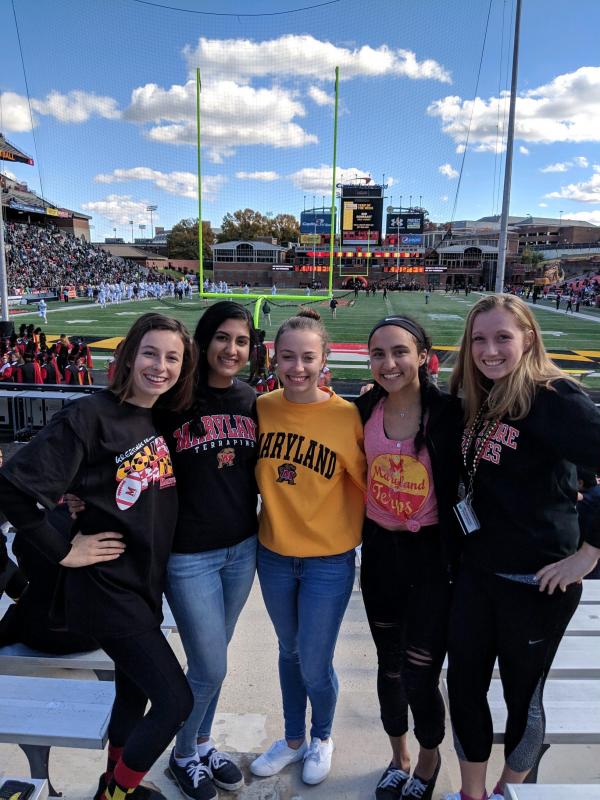 If research interests you, definitely reach out to professors whose research you find exciting!
Andrea Fox
Hometown: Ellicott City, MD
Expected graduation date: Spring 2022
*Photo: Andrea is pictured center, in yellow.

Can you tell us about your backround, specifically, how your interest in engineering developed?
I'm from Ellicott City where I live with my parents and two younger brothers. My parents are both engineers - one electrical and one mechanical - so I have been exposed to engineering since I was young. Growing up, I enjoyed math, science and puzzles, which led me to pursue engineering since it combines all of my interests.

Why did you choose to study at the University of Maryland (UMD)?
Growing up in Maryland, I always considered UMD as a good academic option. The summer before my senior year of high school, I attended the Terp Young Scholars program where I took classes and stayed on campus for three weeks. During that time, I really began to imagine myself at UMD and enjoyed being part of the community - I felt at home. This university has such a strong engineering school, and for me it's in-state, so when it came to making a decision the next year, it really was a no brainer for me.
So, how did you hear about chemical and biomolecular engineering (ChBE), and what prompted you to declare it as your major?
I was already familiar with chemical engineering, but during the Terp Young Scholars program, I focused on Biopharmaceutical Production. The classes took place in the Chemical & Nuclear Engineering Building, and we conducted our labs in the Bioprocess Scale-Up Facility. Before that, I hadn't realized how broad ChBE is and this program acquainted me much better to some of its applications, not just in the petroleum industry. I knew I wanted to major in some field of engineering and ChBE really seemed to incorporate all of my interests. I like chemistry, biology, physics and math and appreciated the versatility of this major.

Have you conducted any research, either on or off campus? 
Yes, coming into college, I wanted to get real-life experience to supplement my classes, so I joined the Karlsson Protein Engineering Lab and the Gemstone Honors Program. In Dr. Karlsson's Lab, I have been studying Candida albicans, a type of fungus, and its infection and growth inside novel polymer capsules. I've really enjoyed learning to work with cell cultures and hope to look into bacterial and fungal co-infections in the near future.

With my Gemstone Team - Team Produce - I'm working towards developing biodegradable packaging under the guidance of Dr. Al-Sheikhly in Material Science & Engineering. I've been able to read literature, design protocol and carry out lab techniques, and it's all been great experience outside the classroom. If you think research is something you'd be interested in, you should definitely reach out to professors whose research you find exciting!
What has been the best thing about your experience on campus thus far? Any challenges you've had to overcome?
So, I dance ballet and wanted to continue in college, and UMD gave me the perfect community. So many of the other company members are engineers, so we are able to bond over ballet and engineering! Personally, trying to budget my time, especially the first semester, was challenging because I was eager to take advantage of everything that the campus has to offer.
In high school, ballet was a large part of my life, and even though I'm not majoring in dance, I still wanted to keep up with it as much as I could. When I auditioned for Ballet Company M [follow this link to see Andrea's ballet bio], I never expected how much it would exceed my expectations. Not only were we dancing and performing at a high level, but I was very surprised to learn that there were about six other engineers in the company. It has been the perfect level of intensity for an engineering student taking difficult classes. I feel so lucky to have found this community, which frankly would have been challenging to find at many other schools.
Probably the biggest challenge that I've had to overcome was managing my time on campus. My first semester on campus, I realized how many things there are going on at campus at any one time, and coming from high school, I wanted to join many extra-curriculars, attend a bunch of sports games, etc. With all these obligations, it was difficult to stay on top of studying and sleep enough. In fact, I don't think I realized how important it is to budget time effectively throughout the entire semester until finals week when I had many projects and exams, but not enough time to do everything as well as I wanted. I had to slim down on the number of extra-curriculars I devoted time to, and do frequent reflections on my pace in classes. I found that it's good to try out a bunch of activities with the intention of deciding which are worth your time, and which you won't be able to continue with.
So, when you're not in class, how do you spend your time?
I'm a member of multiple extra-curricular groups on campus, in addition to Ballet Company M, a student-run performing ballet company. To get more involved in the engineering community, I joined Alpha Omega Epsilon, the professional and social sorority for women interested in engineering and technical sciences. Every week, there are a mixture of professional, philanthropic, sisterhood, fundraising, and recruitment events, which has been great for networking with alumni, making friends within my engineering classes, and taking a study break. I'm also part of OneU, a Christian ministry on campus. Unrelated to extra-curricular activities, I'm a huge sports fan. I love going to Maryland football, basketball and soccer games when I have time. Go Terps!
Do you have any post-commencement plans?
I hope to attend graduate school to focus on drug development/biopharmaceuticals, or something similar. I really enjoy my work with fungal cell cultures in the Karlsson Lab and would like to do something related in the future.
Can you offer any advice for incoming students as to how they can be successful?

One big thing that has helped me succeed is attending office hours. Going to office hours not only helps with understanding lectures and completing homework, but it's a great way to build better relationships with professors, TAs and classmates, who are all good resources. I think it's important to find people to work with in classes quickly because they can be very helpful in solving complex engineering homework and preparing for exams. I'd encourage incoming students to keep office hours on their calendar, especially for ChBE courses.

Along the same lines, I would stress the importance of planning your time, listing out all important assignments/events, and starting homework early. This way you can fully take advantage of the office hours because you've already identified the problem areas. Once you get behind, it can be extremely difficult to catch up, so I've found it helpful to keep constant lists of what I need to do and plan my study and break times by scheduling a certain amount of time for each task. I know I've talked a lot about ballet, but I think having good breaks like that can be so important to managing time more effectively.
Last question, just for fun: what do you want to be when you grow up?
Something I value deeply is education and not just in the traditional sense. Moving forward, I hope to be a good teacher in life and an even better listener. I constantly strive to grow, learn and contribute positively to society.
Top