Innovative Chemistry Revolutionizes the Zinc-Air Battery
International research group publishes study for next-gen sustainable batteries in Science.
FOR IMMEDIATE RELEASE December 31, 2020
CONTACT:
Katie Holland Doyle
301 405 0379
khollan3@umd.edu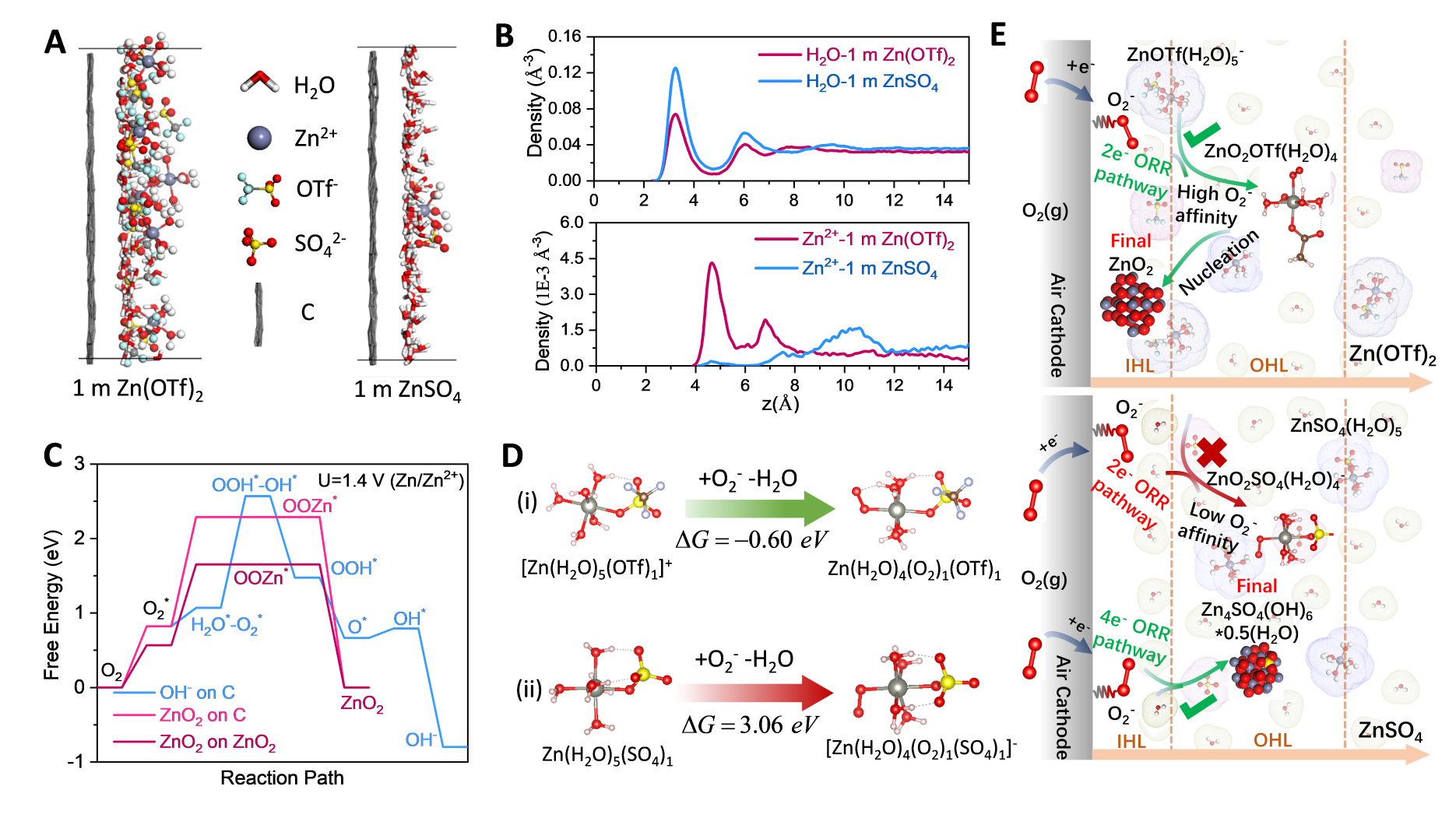 As the potential for a global energy crisis continues to increase, so does the demand for sustainable energy resources. Research teams across the globe strive to develop high performance, eco-friendly, safe and cost-effective batteries. The zinc-air battery (ZAB) is an attractive alternative to the lithium-ion battery currently dominating the energy storage market; however, the conventional ZAB can often be unstable. Parasitic reactions, or side reactions - such as dendrite formation and air electrode failure rooted in the usage of alkaline electrolytes - often lead to battery failure and impede the development and application of ZABs.
To solve this problem, an international research team, co-led by University of Maryland (UMD) Professor, Chunsheng Wang, has developed a novel chemistry for the ZAB, which – based on a non-alkaline, water electrolyte – overcomes the parasitic reactions. Wei Sun – a former visiting Ph.D. Student in Dr. Wang's group and now a postdoctoral researcher at the University of Münster – served as first author on the study published in Science on January 1, 2021. While working with Wang's group, Sun focused on Zn-ion and proton co-insertion mechanism in aqueous Zn batteries
"This non-alkaline electrolyte brings a previously unknown reversible zinc peroxide (ZnO2)/O2 chemistry to the zinc-air battery," said Sun. "Compared with the conventionally strong alkaline electrolytes, this newly developed non-alkaline aqueous electrolyte has several advantages: the zinc anode is used more efficiently with a higher chemical stability and electrochemical reversibility."
"Current zinc-air batteries suffer from the slow 4 electrons oxygen (O2) redox reaction due to water involvement," said Wang. "By using a Zn-salt with a hydrophobic anion trifluoromethanesulfonate (triflate), we removed water from air cathode surface enabling the highly reversible 2e- ORR reaction on air cathode in a diluted, aqueous electrolyte; thus, the full zinc-air batteries can operate stably for 320 cycles and 1,600 hours under ambient air atmosphere."
Although the ZAB provides a potential alternative battery technology with several advantages, this technology still requires further intensive research and optimisation.
"This zinc-air battery is designed to work in an open atmosphere, so electrolyte evaporation is inevitable," Wang said. "A water management system might be needed to ensure a long-term practical operation."
For additional information:
SunW., Wang, F., ZhangB., Zhang, M., Küpers V., Ji, X., Theile, C., Bieker, P., Xu, K., Wang, C. and Winter, M. (2021 Jan 01). "A rechargeable zinc-air battery based on zinc peroxide chemistry," Science. DOI: 10.1126/science.abb9554
About the A. James Clark School of Engineering
The University of Maryland's A. James Clark School of Engineering is a premier program, ranked among the top 20 in the world. Located just a few miles from Washington, D.C., the Clark School is at the center of a constellation of high-tech companies and federal laboratories, offering students and faculty access to unique professional opportunities.
Our broad spectrum of academic programs, including the world's only accredited undergraduate fire protection engineering program, is complemented by a vibrant entrepreneurial ecosystem, early hands-on educational experiences, and participation in national and international competitions.
The Clark School is leading research advancements in aerospace, bioengineering, robotics, nanotechnology, disaster resilience, energy and sustainability, and cybersecurity. From the universal product code to satellite radio, SMS text messaging to the implantable insulin pump, our students, faculty, and alumni are engineering life-changing innovations for millions. Learn more at www.eng.umd.edu.