Goldberg and Woehl Receive UMD Teaching & Learning Grant Awards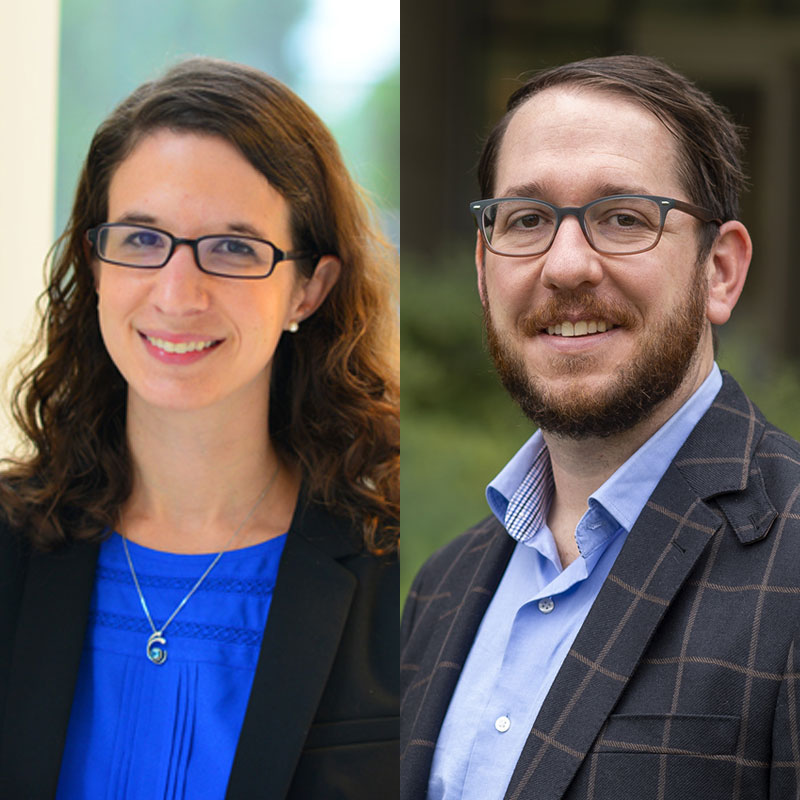 Two Department of Chemical and Biomolecular Engineering (ChBE) faculty received 2022 Teaching and Learning Grants from the University of Maryland (UMD). The initiative funds educational projects focused on expanding active and experiential learning for students.
Senior Lecturer and Associate Chair for Strategic Initiatives Deborah Goldberg received a grant for her project "Incorporation of Simulated and Hands-on Biopharmaceutical R&D Experiences in an Engineering Elective Course."
With her Teaching and Learning Grant, Goldberg aims to expand current curriculum in the department's "Biopharmaceutical Process Development & Manufacturing" courses to create in-class, hands-on learning activities which not only mimic the experimental design and analysis process used in the biopharmaceutical research and development (R&D) industry, but will better prepare students to enter the biotechnology workforce.
Using a mix of in-class, virtual and hands-on activities, Goldberg's coursework will provide students with experience designing experiments, analyzing data, and making decisions based on data through group activities as well as gain experience working with common instrumentation used in biopharmaceutical R&D laboratories.
According to Goldberg, adding these laboratory experiences to the coursework will give a wider range of students access to these highly sought-after R&D skills, and in particular, support students who might not have access to research experience outside of class, such as community college transfer students and students who must work to support themselves.
Goldberg obtained both her B.S. in Chemical Engineering and her Ph.D. in Bioengineering at Maryland. She went on to work at MedImmune (now AstraZeneca) as a scientist in Formulation Sciences for several years before returning to Maryland as a lecturer. In her role as ChBE Associate Chair for Strategic Initiatives at UMD, Goldberg is developing and implementing programs to support students, faculty, and staff with a special emphasis on Diversity, Equity, and Inclusion.
Associate Professor Taylor Woehl received a grant for his proposal, "New Chemical Engineering Course Development Emphasizing Experiential, Lab-Based Learning: Chemical Processes in Beer Brewing."
With his grant, Woehl aims to expand elective opportunities for seniors while addressing a gap in current curriculum. While current senior electives focus on advanced and modern topic in chemical engineering, a large number of students go on to positions in the consumer products and food and beverages industries. However, no current coursework addresses the specifics of these industries.
Drawing on the popularity of beer, as well as its relatively simple chemical process, Woehl developed a hands-on course that will not only expose students to applying chemical engineering principles to the food and beverage industry, but also demonstrate the broad reach and application of the field.
"I have seen firsthand in teaching my introduction to chemical engineering course and interfacial science elective that relatable examples and hands-on learning are effective learning tools to explain difficult topics," explained Woehl. "Teaching challenging theoretical concepts in chemical engineering in the context of beer brewing— a relatable and fun topic—will enhance and reinforce student comprehension and preparedness for industry."
Woehl joined UMD in 2016 and leads the Nanoscale Assembly and Electron Microscopy Lab. He is an associate professor and holds joint appointments in the Department of Materials Science and the Department of Chemistry and Biochemistry. He obtained his Ph.D. in Chemical Engineering from the University of California, Davis in 2013 and worked as an Assistant Research Scientist at Ames Laboratory from 2013-2014, followed by an NRC postdoctoral fellowship from 2014-2016 in the Material Measurement Lab at the National Institute of Standards and Technology.
Published August 31, 2022