Department Mourns Passing of Alumna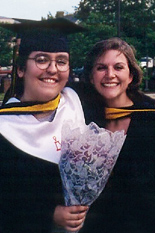 The Department of Chemical and Biomolecular Engineering is sad to report the loss of alumna Alice Gillette Forman (B.S. '99), who passed away at her home in Charleston, S.C., on July 13, 2006.
Alice was born in Washington, D.C. and raised in Bethesda, Md. After graduating from the University of Maryland, she worked as a chemical engineer with paper producer P.H. Glatfelter Company in York, Pa.; then joined MeadWestvaco, where she worked as a paper process engineer. Alice was regarded by her colleagues as an expert in packaging, structural cardboard, clean paper manufacturing and mill troubleshooting. MeadWestvaco will plant a pine tree in her memory at their facility.

| | |
| --- | --- |
| | |
| "I was happy to have her work with me because she was the kind of person who got things done in a quiet yet determined sort of way." | |
| | |
Alice is remembered by friends and faculty as a quiet, confident student, but she also had a vibrant side not everyone got to see. Fellow alumna and close friend Tracey Cheek (nee Squires) told us about their time together at the Clark School: "[We] met in Dr. Greer's Thermodynamics class. I was scared about coming back to school and Alice seemed so confident and calm sitting behind me. Our relationship began out of necessity...Alice and I were soon inseparable...studying, eating, and laughing together (usually because we were so giddy from studying so late before an exam). To most people in our classes, Alice was quiet and reserved. I feel lucky that I got to know the other parts of Alice...the sarcastic, witty, and fun parts. Alice was a warm and generous friend and I will miss her."
| | |
| --- | --- |
| | |
| | |
| | |
Alice was an active member of AIChE (the American Institute of Chemical Engineers), the Alpha Chi Sigma chemistry fraternity, and the engineering honor society Tau Beta Pi. She was also an officer in the Society of Women Engineers. In these roles, she was a mentor to other young women majoring in chemical engineering.
A scholarship in her name for women students of chemical engineering is planned at the University of Maryland. Contributions may be made in the form of checks payable to:
The University of Maryland College Park Foundation, Inc.
Gift Acceptance and Receipting
c/o Alice Gillette Forman Memorial Scholarship Fund
3126 Samuel Riggs IV Alumni Center
University of Maryland
College Park MD 20742-1531.
Alice's obituary can be found at the Fauquier Times-Democrat/The Fauquier Citizen and the Washington Post web sites.
Published August 1, 2006